London attack manhunt underway for suspect linked to blast at Parsons Green station
A manhunt was underway for any suspects linked to the bucket bomb that detonated on a packed subway train during Friday morning rush hour, injuring at least 29 people.
A source confirmed to Fox News that an ISIS affiliate took responsibility for the attack.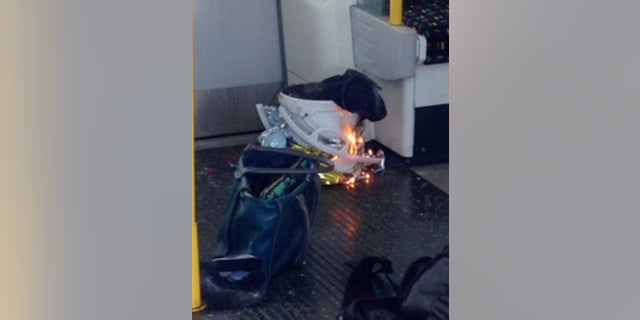 Police quickly called the explosion on the District Line train at Parsons Green station a "terrorist incident." It was the fifth terrorist attack in Britain this year.
Hours after the attack, officials in the United Kingdom raised the country's terrorism threat level to "critical" — the highest possible threat which means another attack is expected shortly.
Police said they have not arrested anyone in connection to the bombing, but hundreds of detectives were trying to hunt down the perpetrator or perpetrators.
The Metropolitan Police force said police "are making fast-time inquiries to establish who was responsible and are working closely with the security services."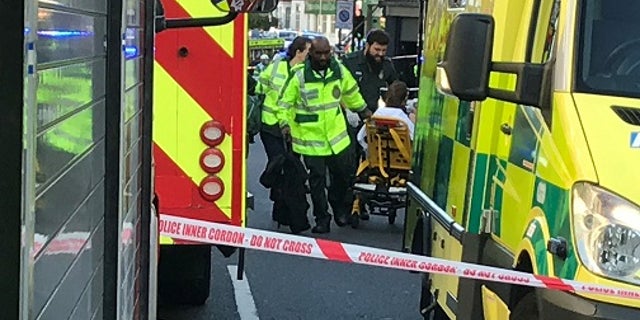 Counterterrorism policing chief Mark Rowley said hundreds of detectives were scanning surveillance camera footage, carrying out forensic work and speaking to witnesses.
Scotland Yard said an improvised explosive device was used in the attack, and London's Metropolitan Police counter-terrorism unit was also investigating; however, police did not immediately provide any details on any suspects.
The ambulance service said at least one of the injuries was thought to be serious or life-threatening and most of the injuries were flash burns.
Passengers reported seeing people with burns to their faces and bodies after the "massive flash of flames" on the tube station.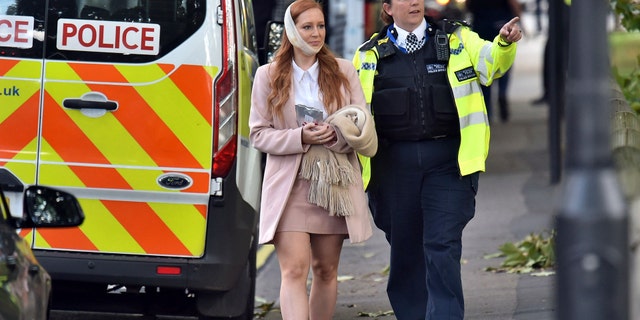 Peter Crowley, a passenger, told the BBC: "I heard a large bang from the doors on the other side of the tube train and this fireball came towards my heard and singed off all my hair – I have got burn marks at the top of my head. Everyone just ran off the train, it was quite scary."
"It was a really hot intense fireball above my head, I've just got red marks and burns to the top of my head. There were a lot of people a lot worse than me."
Photos taken inside a District Line train showed a white plastic bucket inside a supermarket shopping bag with flames and what appear to be wires visible.
Explosive experts told the Daily Mail that they were investigating the bucket and said if it exploded properly it could have killed dozens of people. The BBC reported that the homemade device contained a timer.
Police advised people to avoid the area.
"Our city utterly condemns the hideous individuals who attempt to use terror to harm us and destroy our way of life," London Mayor Sadiq Khan said in a statement. "As London has proven again and again, we will never be intimidated or defeated by terrorism."
"My thoughts are with those injured at Parsons Green and emergency services who are responding bravely to this terrorist incident," British Prime Minister Theresa May tweeted.
Police said it was "too early to confirm the cause of the fire, which will be subject to the investigation that is now underway by the Met's Counter Terrorism Command."
The London Ambulance Service said it was called in at 8:20 a.m. local time and dispatched multiple resources to the scene, including a hazardous area response team.
"Our initial priority is to assess the level and nature of injuries," a statement read.
President Trump tweeted about the attack, which he said was perpetrated by a "loser terrorist."
"Another attack in London by a loser terrorist.These are sick and demented people who were in the sights of Scotland Yard. Must be proactive!" Trump wrote. "Loser terrorists must be dealt with in a much tougher manner.The internet is their main recruitment tool which we must cut off & use better!"
May said speculation about the incident was unhelpful following Trump's tweets.
"I never think it's helpful for anybody to speculate on what is an ongoing investigation," May said.
London police have declined to comment on Trump's suggestion that it knew about the attacker.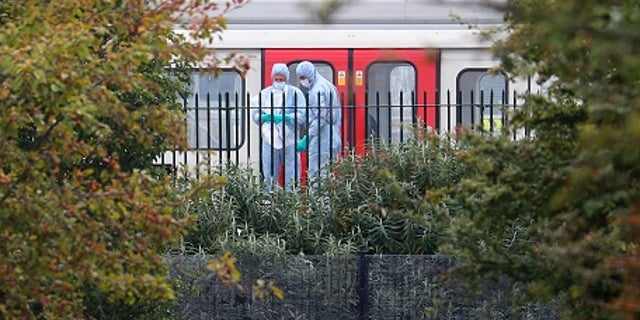 Richard Aylmer-Hall, 53, who was on the train when the blast occurred, said he saw people injured after being trampled.
"There was a woman on the platform who said she had seen a bag, a flash and a bang, so obviously something had gone off," he said. "Some people got pushed over and trampled on, I saw two women being treated by ambulance crews."
Hall said he didn't believe anyone was injured by the actual device.
"It was an absolutely packed, rush-hour District Line train from Wimbledon to Edgware Road. I saw crying women, there was lots of shouting and screaming, there was a bit of a crush on the stairs going down to the streets," he told Sky News.
Emma Stevie, a passenger on the train during the fire, told the BBC she became mixed in a "human stampede."
"I wedged myself in next to a railing, I put myself in the fetal position," she said.
"There was a pregnant woman underneath me, and I was trying really hard not to crush her.
"I saw a poor little boy with a smashed-in head and other injuries. It was horrible.
"The injuries from the stampede seemed the worst. I'm outside now, there are women crying and people sitting on the floor."
British Foreign Secretary Boris Johnson said people should "keep calm and go about their normal lives" following the incident, adding that it would be "wrong to speculate."
May said Britain's official threat level from terrorism remained at "severe," meaning an attack is highly likely, and has not been raised in the wake of the bombing.
The London Underground itself has been targeted several times in the past, notably in July 2005, when suicide bombers blew themselves up on three subway trains and a bus, killing 52 people and themselves. Four more bombers tried a similar attack two weeks later, but their devices failed to detonate fully.
Fox News' Allison Barrie, Catherine Herridge and The Associated Press contributed to this report.