London airspace re-opened after computer failure disrupted flights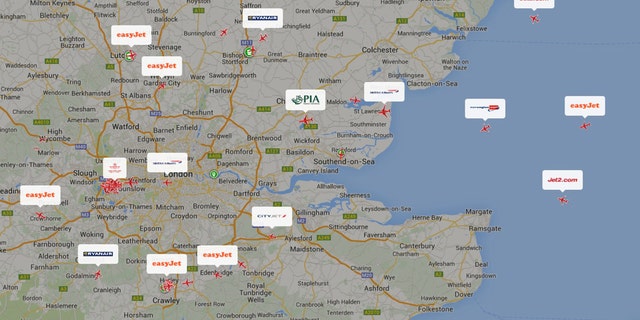 LONDON – The airspace over London was briefly closed Friday afternoon due to what authorities said was a computer failure at one of Britain's two air traffic control centers.
The shutdown caused lingering flight delays in and out of London, Heathrow officials said, urging passengers to check the status of their flights before leaving for the airport. About 50 planes were backed up at Heathrow as of 1730 GMT (12:30 p.m. ET).
Flights slowdowns were also reported in other parts of Europe on Friday night because of the problems over London.
NATS, Britain's national air traffic body, said a computer problem at its center in Swanwick, England, had touched off troubles in the system. The problems began about 1527 GMT (10:27 a.m. ET) and were fixed about 35 minutes later. The agency said its operations were in the process of returning to normal but would not say how long that would take.
"We apologize for any delays and the inconvenience this may have caused," NATS said in a statement.
The shutdown came at the start of a busy weekend in a sprawling city with five commercial airports including London Heathrow -- Europe's busiest -- as well as Gatwick, Luton, Stansted and London City Airports.
Heathrow alone handles about 1,200 to 1,400 flights a day, about 200 of those to and from the United States, according to the flight tracking service FlightAware, which said the problem mostly affected departures from London.
British aviation authorities did not ask the U.S. Federal Aviation Administration to hold flights destined for Heathrow on the ground during the shutdown, so there was no impact on departures from the U.S., said FAA spokeswoman Laura Brown.
Airline security analyst Chris Yates said when airspace is closed down, planes on the ground can't take off because they have no air traffic control cover. Those in the air close enough to the airport to have been in a holding pattern -- say within 30 minutes of landing -- would be allowed to land.
The British government reacted with outrage to Friday's incident.
"Disruption on this scale is simply unacceptable and I have asked NATS for a full explanation of this evening's incident," Transport Secretary Patrick McLoughlin said.
The Swanwick center has been plagued by problems since it opened in 2002 -- six years after its planned commissioning date and at twice its original budget. Software and reliability issues have caused repeated disruptions since.
In December 2013, a computer problem at Swanwick took 12 hours to fix.
A few months after the opening of the Swanwick center, the BBC cited an unnamed air traffic controller as complaining of "potentially catastrophic" problems at the facility, including erratic radio transmissions. Other controllers cited by the broadcaster said the text on their computer screens was "too tiny to read."
In 2004, Swanwick was in the news again when a computer problem grounded scores of flights across Britain. An even more serious glitch in September 2008 grounded hundreds of flights and affected tens of thousands of travelers.
The December 2013 failure at Swanwick was particularly bad because it came at the beginning of the holiday season. After calm was restored, NATS chief Richard Deakin called that failure a "one-in-10-year event."
At Heathrow on Friday, passengers on United Flight 941 to Newark were told about the computer problem as they boarded. United staff said the plane would be loaded and head toward a runway in the hopes that the computer problem could be fixed. Passengers appeared nonplussed and good-natured about the delay.
Most passengers at Heathrow seemed unaware of the issue and no further mention of it was made during normal boarding.