'Life is horrible': Syria's Christians fear total genocide
Only a handful of mostly sick or elderly Christians remain in the ISIS stronghold of Raqqa, and Syrian Christians fear the forces that have brought that city's population of Gospel followers to the brink of extinction could do the same for the entire nation.
An estimated dozen Christian families are still in the northern city, forced under threat of execution to convert, pay an "infidel" tax or go into hiding. Forbidden from leaving, they also face death from attacks directed at ISIS by Damascus, Russia and the U.S.-led Western coalition.
"We are trying to help them escape or stay safe, in hiding," said Ayman Abdel Nour, executive director of Syrian Christians for Peace. "Their life is horrible. The people of Raqqa are being forced to live like it was 1,400 years ago."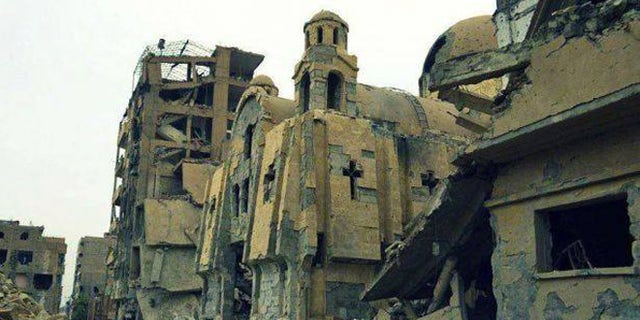 The plight of Christians in Raqqa is the eye of a storm that threatens to engulf all of the embattled nation whose ties to Christianity are as old as the faith itself. Terror, bombings and systematic persecution designated as genocide by the U.S. has left the close-knit community of Syrian Christians fearing for their future.
"We are facing terrorist action in the whole geography of Syria," the Rev. Ibrahim Nseir, pastor of the National Evangelical Synod of Syria and Lebanon and the Presbyterian Church in Aleppo, told FoxNews.com from the conflict-torn city. "They are destroying our churches, killing and kidnapping Christians, stealing our homes and our businesses."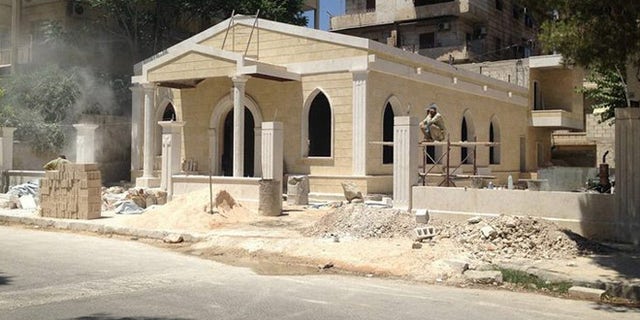 Even for many with the means and ability to flee, leaving is not an option when it means abandoning not just their homes, but also their faith.
"We are rooted in this country," Nseir said. "Any picture of Syria without Christians in it is the true destruction of Syria."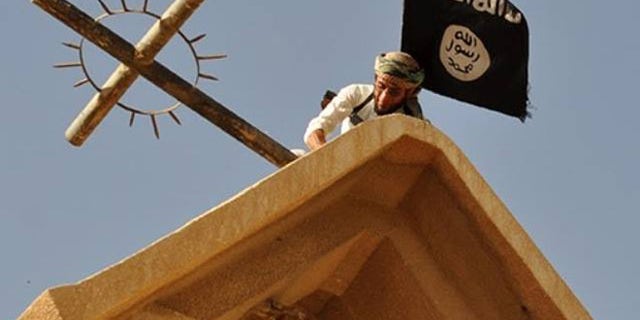 Syria, along with its neighbor Iraq, is deemed the cradle of human civilization and the region where Christianity began 2,000 years ago. It was on the road to Damascus that the Apostle Paul experienced his conversion to Christianity, and Syria remains one of the few sacred locales where the language of Aramaic – the language of Jesus – can still be heard.
In the 1920s, Christians -- mainly Greek Catholic and Greek Orthodox -- made up nearly a third of the Syrian population. By the time civil war erupted in 2011, Christians in Syria numbered just 2.2 million, or less than 10 percent of the nation's population. Experts now estimate that the Christians make up less than five percent of the population.
Amid the conflict, Christian archbishops, nuns, clerics and church leaders have been systematically kidnapped and executed, suicide bombers have struck at Christmas celebrations and many of the faith's most sacred sites and treasures haven been looted or destroyed. The castle of Krak des Chevaliers, just west of Homs, which was the fortress for the Knights Hospitaller during the Crusades, and the famed Catholic Monastery of St. Elian, home to a 5th-century tomb, are among the notable sites that have been ravaged.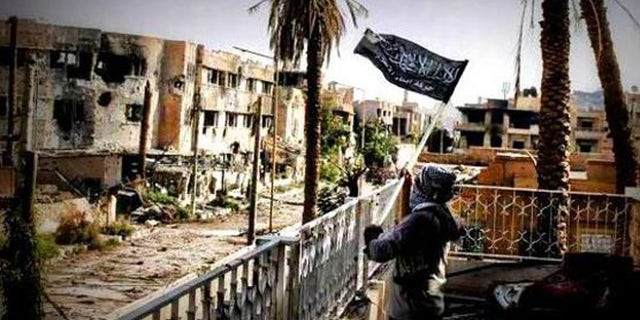 For centuries, Syria was a melting pot of different religions and ethnic groups, where a Sunni Muslim majority lived in relative peace with Alawites, Christians, Shia Muslims, Ismaili, Druze, Kurds, Turkmen, Armenian, Yazidi and others.
"Christians and Muslims lived in the same neighborhoods, we fasted together for different religious holidays," said Malak Al Hussaini, a 24-year-old post-graduate student from near Raqqa, who now lives in Damascus. "But these terrorists are mutilating the minds of people."
Hussaini -- a Muslim -- served as a translator at a Christian Armenian Church before it was reduced to rubble in the fighting.
"We lived in harmony," she lamented. "And now, ISIS takes minorities at checkpoints, women are taken as sex slaves and men are killed or forced to convert to the Islamic version of ISIS… We don't know when this will stop."
Amid the sectarian strife, signs of the peaceable past remain. After Nseir's majestic Aleppo church was bombed in 2012, the first person to call him to express sympathy was the city's "mufti," or leader of the Muslim community.
"He said, 'Be assured, we will help you rebuild the church,'" Nseir recalled. "Muslims have long protected Christians and Christians have protected Muslims. This is our Syria."
Nseir's flock worshipped together in an apartment with no electricity until they were able to rebuild their church, opening doors in time to mark Christmas last year.
"They destroy, we rebuild," Nseir said defiantly.
Like all Syrians, Christians see only uncertainty in the future. A civil war that began as an uprising against dictatorial President Bashar Assad has descended into an international free-for-all, with government forces fighting rebels, Al Qaeda fighting ISIS, Russia and Iran backing Assad and a U.S.-led Western coalition trying to restore stability with an as-yet-unidentified new regime.
Christians fear things can only get worse, and with good reason, according to experts.
"They don't necessarily like the regime but they fear the alternative is worse," noted Kamran Bokhari, a Middle East scholar and analyst at Geopolitical Futures. "In general, the Middle East has not really experienced regime change. Instead we have seen regime collapse leading to anarchy."
However, other Christians argue that there will be no end to the bloodshed and fleeing – including the Christian exodus – without leadership change.
Nseir believes Syria can find its way out of chaos and misery, but not without Christians.
"Our society in Syria was never perfect, but we were worshipping our God freely and we were respected," he said. "We need Christians to stay in this country where Christianity started and if they have left to come back, but they need to know their cities are safe before they can do that."