Life after ISIS: Christians say they can't go home without international protection
NEWYou can now listen to Fox News articles!
BAHZANI, Iraq – It should have been a positive, uplifting story: Christian residents of a small, newly liberated town in northern Iraq return home after fleeing ISIS in 2014.
But now that the town has been freed by Peshmerga forces, many of the Christians who have trickled back -- their livelihoods and homes in ruins, their sense of safety and security shattered -- are once again desperate to leave.
"The reality is we cannot stay without the U.S. or the U.N. helping to protect Nineveh directly," Father Afram al-Khoury Benyamen told Fox News after Sunday mass recently at St. George Cathedral, a 133-year-old church. "With international protection maybe we can remain, but if it doesn't come soon ... we go."
Bahzani, which means "House of Treasure" in ancient Syriac, is considered a contested area between the Baghdad Central Government and the Kurdistan Regional Government. Kurdish Peshmerga soldiers provided protection after ISIS was defeated, but then left six weeks ago when Baghdad ordered its troops to take over amid the fallout of the September Kurdish referendum for independence.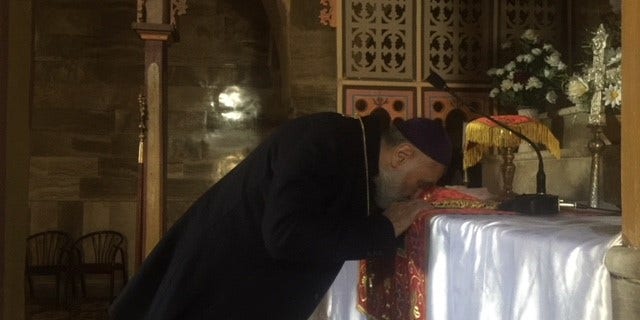 For Bahzani's Christians, the new faces at the town's checkpoints, and the fear that something could erupt at any time, has worn many of them to the depths of despair. "ISIS is not finished in Mosul and still they can come straight here," the priest said. "We expect more attacks. It is like staring into the darkness."
In addition to a plea for international protection, Father Afram -- who proudly said he prayed for Donald Trump to win the U.S. presidential election because he believes Trump will support Iraq's embattled minority -- yearns for financial aid that would enable him and others to piece their lives back together. "We are the original people, the indigenous people here in Iraq and the government should want us to stay. Instead there is nothing. The village is dirty and there is no electricity. No water coming, no markets. All of our people are thinking to immigrate and leave."
Scores of Iraqi Christians in the region who earlier fled in fear to neighboring countries such as Jordan, Lebanon and Turkey have waited years for visas to western nations, only to be rejected. Now, the priest said, these refugees are stranded. They don't have money or the courage to resettle in Iraq. Those fortunate to have been granted visas have seen their families split apart with some members living in the U.S., others living in Europe and still others strewn across the Middle East.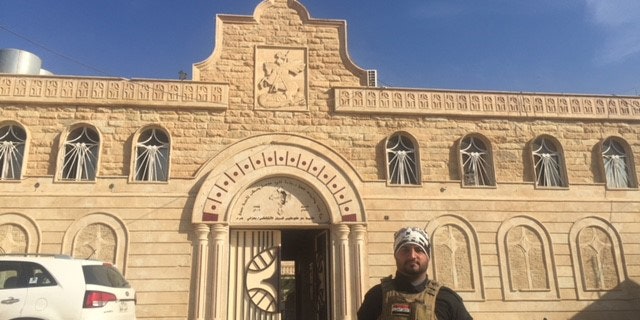 That sense of helplessness hangs in the air.
During Sunday's service, women wrapped in dark mantillas sang and prayed and the men struck candles to lighten the darkened space. At the same time, tiny children played outside in the cold sunshine.
"ISIS destroyed all the crosses, crosses that had been made 150 years ago," he said. "But I said to my people, 'Make new crosses'."
Before ISIS, about 400 Christian families lived in Bahzani. Now the number is about 130. "There is no stability. Our homes are destroyed," said Mariam Ishaq, 58, who was born and raised in Bahzani.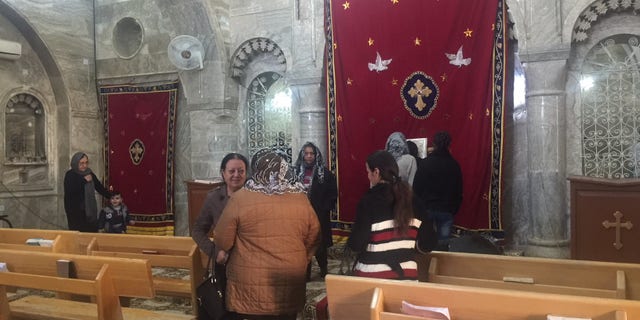 She held hands with Faiza Yaaqoub, 68, as she stopped to talk after the Mass. Her companion was also born and raised in Bahzani. "I don't want to leave," Ishaq said. "But what else can we do?"
St. George deacon Benian Abdullah echoed the frustration. "We are always worried about who will be our future government? Who will be the next to control us?" he asked.
After the church emptied, the priest made his way to the church hall, which was looted and suffered damage when ISIS seized the town. ISIS fighters left behind bulls-eye targets painted on the walls for shooting practice. They also used the building as a makeshift hospital.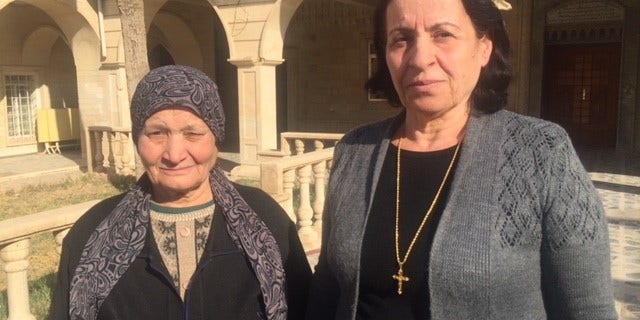 Father Afram then walked into town and pointed at the crooked streets where 350 houses were bombed and burned in the battle with ISIS.
Those few residents who still live in these homes have been forced to cook on antique stoves and fetch water from old wells as they continue to mourn loved ones lost both directly and indirectly in the ISIS assault.
One resident, Silvia, wept for her 33-year-old son Rimon who died in February from cancer and was laid to rest at the church.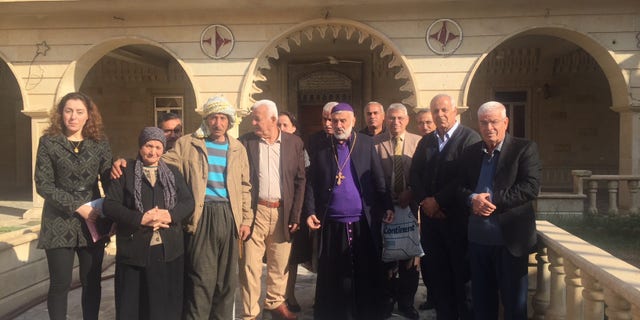 "Because of this crisis we could not find him medicine. We could not get help for him to leave," she sobbed. "And so he lost his life."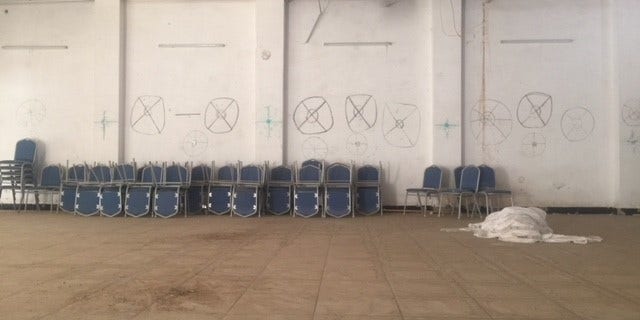 The haunting signs of ISIS' brutality are everywhere, around every corner. "The bomb fell down from the mountains at this place and you can see the effect," Father Afram said, staring up at the town's ISIS-ravaged wedding hall. The priest and other locals pooled what little money they had to pay for repairs to the banquet hall so that the residents would at least have a place for celebrations. But those meager funds ran out before the project could be finished.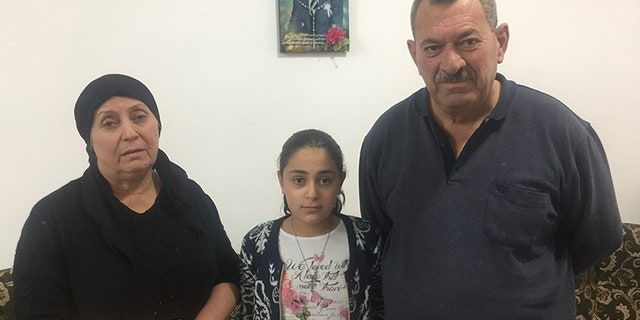 The priest said there are other treasures in the town that he fears are also beyond the point of restoring. Among them are Bahzani's famous olive trees, which once covered much of the plains of Nineveh to the banks of the Tigris River. "Before ISIS, everything was green," he said. "Now everything is finished, nobody gave the olive trees water. And when I see the village like this I feel there is no life here. We used to have 150 doves come to our church, too. But after ISIS, even they have not come back."