Libyan Tribes Attempt to Negotiate Rebels' Exit From Misrata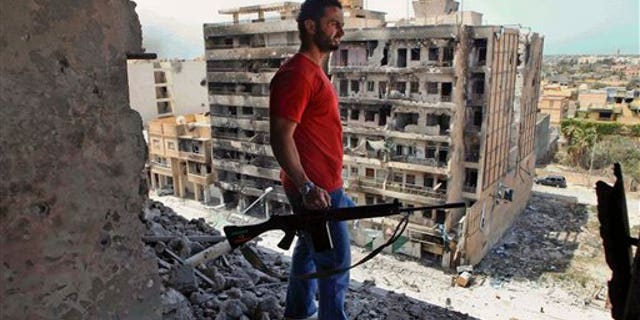 TRIPOLI, Libya – Libyan tribal leaders are trying to get rebels in the city of Misrata to lay down their arms within 48 hours, a government official said early Sunday, after a day of fierce clashes between opposition fighters and Muammar al-Qaddafi's forces.
If negotiations fail, Deputy Foreign Minister Khaled Kaim said tribal chiefs may send armed supporters into the city of 300,000 to fight the rebels. In the meantime, the Libyan military is halting operations in Misrata, Kaim said.
However, the Misrata area is not known to have very large or dominant tribes, and rebels in the city questioned how much support Qaddafi had among them. It is also unclear whether the rebels would be willing to negotiate, particularly after claiming to have forced government forces to retreat. Kaim said tribal chiefs are still trying to get in touch with the rebels.
Opposition officials have confirmed that Qaddafi's forces have pulled back, but have expressed doubts that the regime will fully withdraw from the city.
Misrata, the only major rebel stronghold in Qaddafi-controlled western Libya, has become the most dramatic battleground in the Libyan uprising, which began in February after similar revolts inTunisia and Egypt ousted longtime leaders. Fighting elsewhere in the country is at a stalemate, even with NATO airstrikes that began last month.
Hundreds of people have been killed in two months of a government siege backed by tanks, mortars and snipers firing from rooftops. Late last week, rebels drove snipers from a tall downtown building, in a setback for Qaddafi loyalists who had controlled the city center. The rebels have defended positions around Misrata's seaport.
"They have no mercy. They are pounding the city hard," Misrata resident Osama al-Shahmi said of Qaddafi's forces, speaking Sunday after being evacuated from the city by boat.
"Everyone in Misrata is convinced that the dictator must go," said al-Shahmi, 36, a construction company administrator who was wounded by shrapnel from a Grad rocket. His right leg wrapped in bandages, al-Shahmi flashed a victory sign as he was wheeled on a gurney into a waiting ambulance upon arrival in the rebel stronghold of Benghazi.
Pope Benedict XVI urged an end to fighting in Libya and called for diplomacy.
Benedict said during an Easter Sunday message that politics in North Africa and the Middle East should be based on respect for all.
He also said those "who suffer as a result of the conflict be given access to humanitarian aid."
Kaim, the Libyan official, said the army has halted operations in Misrata since Friday, as part of the attempt of tribal leaders to negotiate an exit deal for the rebels.
However, residents reported heavy fighting, shelling and explosions in the east and south of Misrata and doctors said Saturday was one of the bloodiest days in weeks.
At least 24 people were killed and 75 were wounded, many of them critically, said a doctor at a Misrata hospital who asked to be identified only by his first name because he was afraid of government retribution. He said that hospital officials who feared a strong attack Saturday had moved out some patients a day earlier to make way for more casualties.
Kaim said the tribal chiefs are determined to put an end to the fighting, in part because it has blocked access to the Misrata seaport. "The leaders of the tribes are determined to find a solution to this problem within 48 hours," he said.
If negotiations fail, "the other option, which is still available for the leaders and the heads of the tribes is a military intervention to liberate Misrata," he said.
He said the six main tribes in the region can muster 60,000 armed men.
Also Sunday, two aid vessels carrying more than 1,400 Misratra evacuees, most of them foreign workers, arrived in the rebel stronghold of Benghazi in eastern Libya. Such ships have been ferrying hundreds of people, including migrant workers and wounded Libyans, from Misrata to Benghazi in recent days.
Between 2,000 and 3,000 people, many of them migrants, are still stranded in the port area of Misrata, awaiting evacuation, said Javier Cepero of the International Committee of the Red Cross.
Some of the migrants have been waiting for rescue for four or five weeks, he said. The Libyan Red Crescent is trying to provide the stranded workers with food and medical care, but sending aid is difficult because of the fighting, he said.