Libyan Students in U.S. Worry About Returning Home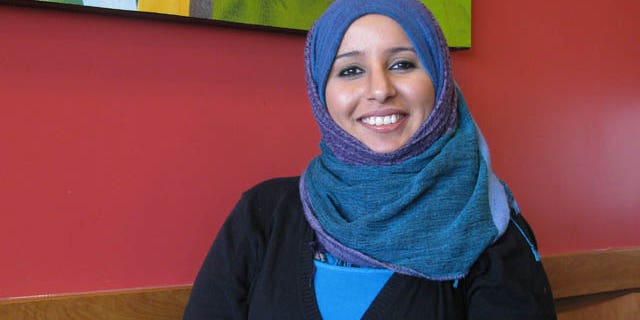 EAST LANSING, Mich. – More than two years ago, Faeirouz Elbergwa was among a select group of Libyans sent by her government to an American university to train for the nation's diplomatic corps. As she prepares for the final stage of her studies, she and her colleagues now find themselves in an odd state of limbo -- a vestige of a regime that no longer exists and unsure what might await them in their much-changed homeland.
Elbergwa, 27, and 18 colleagues in a Libyan diplomatic training program at Michigan State University watched in amazement during the last year as the North African nation was convulsed by a violent revolution that ended with the overthrow and death of leader Muammar Qaddafi.
When the regime fell, many of the students were elated. Elbergwa said she and her family "took the side of the revolution from day one." But she wonders if people in her war-torn country will think of her as a would-be Qaddafi government official when it's time for her to return.
"Maybe some of them will say I'm loyal to this family," she said. "I think I don't care. It's what's in my heart that counts."
Student Mohammed Gibril also wonders about his future in Libya. "I might return home and nothing happens; I might return home and something happens," he said.
As Libya's new leaders struggle to establish order in the country, the students on the campus 5,000 miles away are trying to puzzle out their future with the help of relatives at home and authorities in the United States.
The State Department has approved the necessary visas for them to stay in the United States, and they intend to continue with their program, which will resume next month on the campus of American University in Washington, D.C. If they appear to be in danger when it's time to return to Libya later next year, the U.S. could consider granting asylum.
"The perception is just because these folks received the scholarship from the Qaddafi family they are somehow aligned ... with the Qaddafi family," said Eugenia Zacks-Carney, an immigration attorney who has been working with the Libyans at Michigan State. "Nothing could be further from the truth."
Michigan State launched the program in 2010 under a contract with Libya's National Economic Development Board to provide training in English, political science and international relations for future foreign service officials. Elbergwa, who describes her family as middle-class, was working toward a master's degree in international relations in Benghazi when she entered the program.
She said that for those interested in public service in Libya, there was no alternative to dealing with the Qaddafi regime.
"Everything in the country was controlled by their family. ... We liked to call Libya `Qaddafi's farm,"' said Elbergwa, speaking in fluent English. "We lived by it. Somehow we accepted it for a long time."
When the uprising began in February, she said, her two brothers joined the fight and her father began driving an ambulance. She was heartbroken at first, seeing the broadcast images of suffering and mayhem, but then she joined anti-Qaddafi protests on campus.
Gibril also was torn. "I don't like seeing people being killed, but I was happy to see what he represented die," said Gibril, who has worked in the human rights field. "I wanted him to face justice."
About 20 students in the program, including those loyal to the Qaddafi regime, decided to return home when NATO forces began attacking government targets, but the others stayed on.
Hamza El-Najah, 28, another student in the program, said it's not clear now when stability will come to the nation.
"As the world knows, they don't have freedom for more than 42 years," said El-Najah, whose family owns a jewelry store in a town about 60 miles south of Tripoli. "Right now, they get freedom. What do you think -- use this freedom in the right way or the wrong way?"
Gibril said he would like to return home after the program ends later this year.
One concern is the dozens of militias that rose up during the war and now are reluctant to disband or submit to central authority. Also, there are still Qaddafi loyalists.
"I know there are still people killing in his name," said Elbergwa, whose father resigned from the Libyan Army two years after Qaddafi came to power in 1969.
Sipping coffee in an off-campus cafe, Elbergwa, dressed in a casual sweater and multihued headscarf, said the overthrow of Qaddafi leaves a country with "nothing" -- no infrastructure, education, health care or political culture. With a huge rebuilding process ahead, she said, she hopes her nation will accept her help.
When he returns after his diplomatic training, El-Najah said he will carry a simple message.
"We have to forgive each other," he said. "I will tell them: You should forgive if you want to build Libya."