Libyan Rebels Reclaim Oil Town Ajdabiya After Weeklong Siege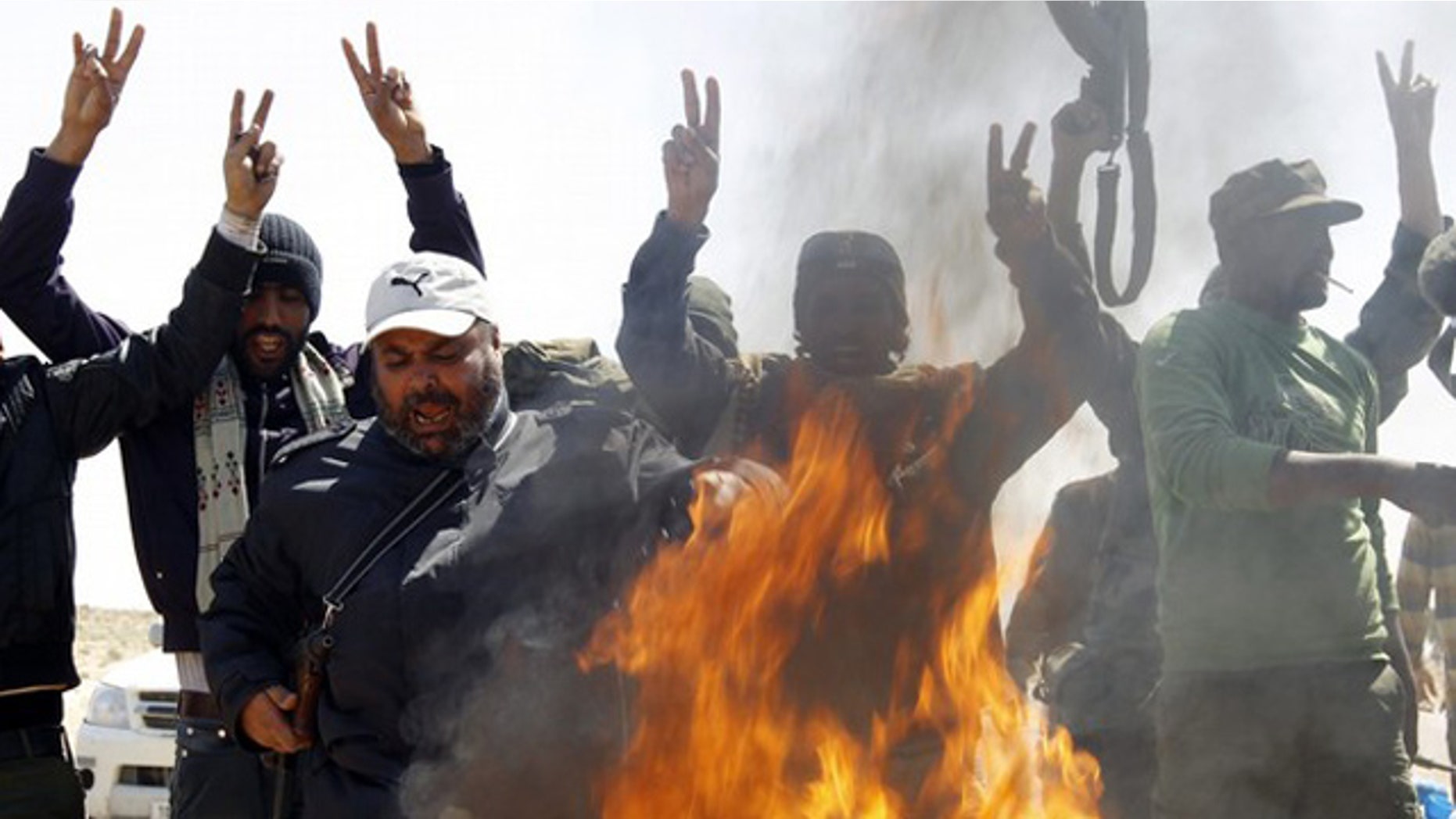 Libyan rebels have overcome Muammar al-Qaddafi's forces in strategic oil town of Ajdabiya, seizing control of the city Saturday in a major turnaround for an uprising that appeared to be on the verge of defeat.
Libyan government forces pulled out from the city of Ajdabiya following an air assault by Western coalition forces, a senior government official told Reuters.
"Without the planes we couldn't have done this. Qaddafi's weapons are at a different level than ours," said Ahmed Faraj, 38, a rebel fighter from Ajdabiya. "With the help of the planes we are going to push onward to Tripoli, God willing."
Drivers honked in celebration and flew the tricolor rebel flag. Others in the city fired their guns into the air and danced on burned-out tanks that littered the road. Inside a building that had served as makeshift barracks for pro-Qaddafi forces, hastily discarded uniforms were piled on the floor.
Saif Sadawi, a 20-year-old rebel fighter with an RPG in his hands, says the city's eastern gate fell late Friday and the western gate fell at dawn Saturday after airstrikes on both those locations.
"All of Ajdabiya is free," he said.
Ajdabiya had been under siege for more than a week, with the rebels holding the city center and scattered checkpoints but facing relentless shelling from government troops on the outskirts. Residents are without electricity or drinking water, and many have fled.
Coalition warplanes struck Qaddafi's forces outside the strategic city of Ajdabiya Friday, the gateway to the rebel-held east, hitting an artillery battery and armored vehicles. Tiny Qatar also became the first Arab country to fly combat missions over Libya.
French warplanes Saturday led an attack on Misurata Airport. They destroyed five Libyan planes and two helicopters, according to a spokesman for the French Ministry of Defense.
Pentagon officials say they considering more firepower and airborne surveillance systems to find and attack enemy troops in Libya.
The proposed attacks would target forces loyal to Qaddafi, who still remain a threat to civilians in the area.
Among the weapons being eyed for use in Libya is the Air Force's AC-130 gunship, an imposing aircraft armed with cannons that shoot from the side doors with precision. Other possibilities are helicopters and drones that fly lower and slower and can spot more than fast-moving jet fighters.
American officials have said they won't drop bombs in cities to avoid killing or wounding civilians -- a central pillar of the operation. Yet they want to hit the enemy in contested urban areas such as Misurata, Ajdabiya and Zintan.
Qaddafi is trying to keep his weakening hold on power by offering promotions to all his military, while arming "volunteers" to fight against a resurgent rebel force.
"(The) brother leader of the revolution has issued a decision to promote all members of the armed people who are currently drafted in his various military units for their heroic and courageous fight against the crusader, colonialist assault," Libyan TV said in a written statement, according to Reuters.
U.S. Vice Admiral Bill Gortney, director of the Joint Staff, said during a briefing Friday that the international coalition is aware of reports that Qaddafi is arming "volunteers." He also said that the Libyan strongman has diminishing ability to command ground forces.
A Libyan government official says his country is ready to talk with opposition rebels and accept political reforms, possibly including elections.
Former Libyan Prime Minister Abdul-Ati al-Obeidi said Friday that the violence in Libya is being carried out by "extremists" and foreign intervention. Al-Obeidi is a member of the Libyan delegation at African Union talks in Ethiopia.
This comes as a Canadian general will be taking over NATO's military operations in Libya, Fox News has learned.
A State Department official tells Fox News that Lt. Gen. Charles Bouchard will be the joint task force commander.
The official says Bouchard will "work with his naval and air component commands to be implementing this operation" for both the no-fly zone and the civilian protection missions.
Bouchard recently served as the deputy commander at NORAD.
NATO is expected to take command of Libyan military operations early next week, the Italian foreign minister told Reuters Friday, a day after NATO agreed to just enforce the no-fly zone over the country for now.
Italian Foreign Minister Franco Frattini said in a news conference that "NATO will be operational Sunday or Monday," according to Reuters.
Britain's Foreign Secretary William Hague also said he expected NATO to take command of operations within days.
This comes as France declared Libya's airspace "under control," after NATO agreed to take command of the no-fly zone in a compromise that appeared to set up dual command centers. Muammar al-Qaddafi drew a rare rebuke from the African Union, which called for a transitional government and elections.
"Having our first Arab nation join and start flying with us emphasizes that the world wants the innocent Libyan people protected from the atrocities perpetrated by pro-regime forces," U.S. Air Forces Africa Commander Maj. Gen. Margaret Woodward said.
The U.S. launched 16 more Tomahawk cruise missiles from naval positions in the Mediterranean Sea, a military official said Friday on condition of anonymity because he was not authorized to speak on the record. The targets late Thursday and early Friday were Scud missile garrisons near Tripoli, while U.S. bombers struck Qaddafi artillery, command and control and tank positions elsewhere, the official said. French and British warplanes attacked an artillery battery and other targets near the town of Ajdabiya, which has been under siege by Qaddafi forces for more than a week.
The latest Tomahawk missile launchings come after the Pentagon said that the U.S. would not launch these types of missiles into Libya during the military operation.
The strikes were intended to give a measure of relief to the city, whose residents have fled or cowered under more than a week of shelling and fighting between rebels and government troops. Explosions also sounded in Tripoli, the Libyan capital, before daybreak Friday, apparently from airstrikes.
"Libyan airspace is under control, and we proved it yesterday, because a Libyan plane in the hands of pro-Qaddafi forces, which had just taken off from Misurata in order to bomb Misurata, was destroyed by a French Rafale," Adm. Edouard Guillaud said on France-Info radio.
Representatives for the Qaddafi regime met with the African Union on Friday, in Ethiopia, in what the U.N. described as a part of an effort to reach a cease-fire and political solution. Although the U.N. secretary-general said an opposition representative would attend, Mustafa Gheriani, an opposition spokesman, said Friday he knew nothing about it.
"The position of the national council has been clear from the beginning -- no negotiaions," Gheriani said. "All he has to do is stop bombing and leave the country."
African Union commission chairman Jean Ping said the AU favors an inclusive transitional period that would lead to democratic elections.
Ping stressed the inevitability of political reforms in Libya and called the aspirations of the Libyan people "legitimate."
Such a solution seemed a long way off, and NATO's military staff began drawing up detailed plans Friday to assume full control of the no-fly zone over Libya in coming days. The U.S. military said coalition jets flew about 150 sorties on Thursday, about 70 of them with American planes.
"The operation is still focusing on tanks, combat vehicles, air defense targets -- really whatever equipment and personnel are threatening the no-fly zone or civilians on the ground in such locations as Ajdabiya and along some other areas on the coast," Marine Corps Capt. Clint Gebke told reporters from aboard the USS Mount Whitney.
Libyan state television showed blackened and mangled bodies that it said were victims of airstrikes in Tripoli. Rebels have accused Qaddafi's forces of taking bodies from the morgue and pretending they were civilian casualties.
The Associated Press and NewsCore contributed to this report.