Libyan Rebels Begin to Rebuild Tripoli, After Capturing Capital's Last Qaddafi Loyalist Stronghold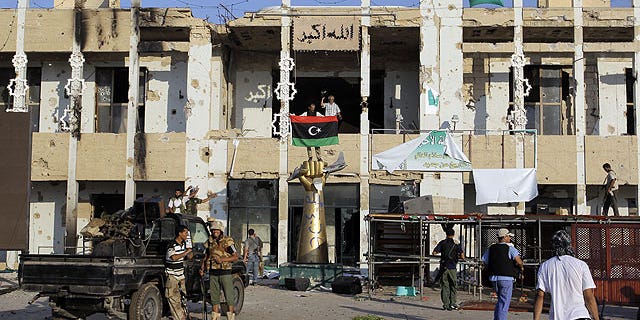 Tripoli – Libyan rebels began to restore normality to Tripoli on Sunday, having captured the last Qaddafi loyalist stronghold in the nation's capital.
After capturing the southern Tripoli base of the elite 32 Brigade -- commanded by former dictator Muammar al-Qaddafi's son Khamis -- in a seven-hour battle, the rebels discovered the charred remains of about 50 people in a nearby building. Residents said they were captives killed Tuesday with rifles and grenades.
Transitional National Council (TNC) chief Mustafa Abdel Jalil, meanwhile, promised the elusive Qaddafi and his senior aides they would be given a fair trial in Libya if they surrendered.
Speaking in the eastern city of Benghazi, where the rebellion began in February, Jalil also called for emergency humanitarian aid for the capital, stressing the need for medical supplies.
"We are calling all the humanitarian organizations and telling them that Tripoli needs medicines, first aid products and surgical material," he told a news conference.
Blaming "sabotage by Qaddafi's forces" for shortages of water and electricity in Tripoli, he said, "We are working on resolving these problems."
While fighting was still underway on various fronts, the focus was increasingly turning to a post-Qaddafi era, with calls for reconciliation and a peaceful transition.
TNC spokesman Mahmud Shammam said the rebels would start distributing petrol to Tripoli residents immediately, and would be providing cooking gas within 48 hours.
They were also working to restore the Zawiyah refinery, Shammam said, pleading for patience and calling on all public, private and oil sector employees to return to work.
"We are starting from point zero in this situation. Do not ask for miracles, but we promise to try to make this difficult period as short as we can," Shammam said.
He admitted there was still resistance left, saying "Anybody who thinks that there is not a fraction of people who support Qaddafi or that there is no fifth column who will try to trouble the peace of Tripoli would be mistaken."
Tripoli airport, held by the rebels, was still being targeted by sporadic shooting and shelling but the insurgents said they had expanded the area under their control.
In the war-torn capital, electricity is out for several hours a day, many districts have no water and the price of food and petrol has skyrocketed, while mountains of rubbish have piled up on the sweltering streets.
The dawn assault on the 32 Brigade base just south of the capital left 11 rebels dead and "higher casualties on the other side," according to a rebel commander.
The rebels late Friday captured the Ras Jdir border post on the frontier with Tunisia, through which it was feared Qaddafi, his henchmen and family might try to escape.
They also took two of the villages from where Qaddafi forces had been bombarding Zuwarah -- 65 miles (104km) west of Tripoli -- an AFP correspondent accompanying them said.
As the hunt for Qaddafi -- whose capture, dead or alive, carries a $1.7 million reward -- continued, the Algerian foreign ministry denied as "baseless" an Egyptian news agency report that six armored Mercedes vehicles that could have been carrying Libyan officials, even Qaddafi himself, had crossed into Algeria late Friday.
The rebels, who are making slow progress in their advance on Qaddafi's home town of Sirte -- 230 miles (370km) southeast of Tripoli -- want to find him so they can proclaim final victory in the six-month uprising.
"We call on Muammar al-Qaddafi and his associates to surrender so we can protect them and spare them illegal execution," Jalil said. "We guarantee them a fair trial, whatever their position."
The United Nations, African Union, Arab League and European Union urged both sides in Libya to avoid reprisals, EU foreign policy chief Catherine Ashton said.
"Colonel Qaddafi must avoid further bloodshed by relinquishing power and calling on those forces that continue to fight to lay down their arms and protect civilians," she said.
The Arab League early Sunday called on "the U.N. and countries concerned" to "unfreeze the assets and property" of Libya, in a statement released in Cairo after a special meeting of Arab foreign ministers.
The ministers also called on the U.N. "to permit the Transitional National Council to occupy the seat of Libya in the United Nations and its various organizations." Al Jazeera reported that the Arab League had re-admitted Libya's membership, transferring the seat to the TNC.