Libyan migration crisis: More than 900 rescued as situation worsens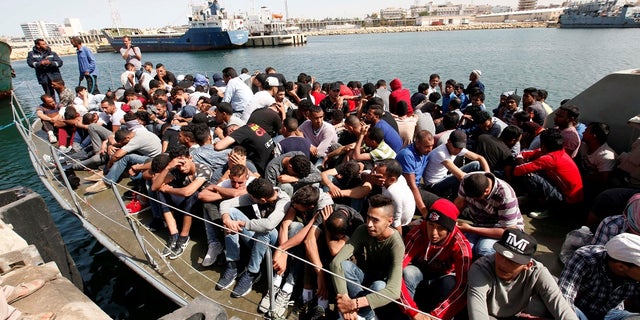 More than 900 African and Asian migrants – including at least 25 minors and seven pregnant women – en route to Europe have been rescued by a Libyan Coast Guard patrol, Al-Monitor reports.

A navy spokesman for the embattled North African country, Gen. Ayoub Qassem, stated Saturday that the coast guard seized five inflatable boats and a wooden vessel.
"One of the rubber boats was holed and on the point of sinking," Qassem said. "While the wooden one did not have a motor."
The potential disaster being averted is a slim silver lining in the otherwise deepening migration and drowning crisis encircling Libyan waters. People smugglers have taken advantage of the disarray in the battle-torn country since 2011, when their dictatorial leader Muammar Qaddafi was killed.
The country has since been without a stable government as various factions fight for authority, but, despite the safety risks the country presents, the vast majority of smuggling routes from Africa pass through Libya.
Last weekend alone, according to the United Nations, more than 50 migrants – mostly from sub-Sahara Africa – went missing at sea and a further 2,500 were rescued leaving Libya on feeble dinghies. An additional eight were found dead. Two weeks before, the Libyan Coast Guard allegedly shot at a migrant-filled boat -- prompting many to jump overboard, and leading to the deaths of all 34, including children.
UN APPROVES EU SHIPS TO SEIZE ILLEGAL ARMS OFF LIBYA
GERMANY PROVIDING $3.9 MILLION FOR REFUGEES IN LIBYA
And earlier this month, a video emerged appearing to show several Somalis and Ethiopians – beaten and starved, crowded and frightened – in a concrete room where they are allegedly being held for ransom by criminal Libyan gangs. Some captives claimed to have had their bones broken and teeth pulled out, and the International Organization for Migration (IOM) said relatives of some had received demands for ransom payments up to $10,000 otherwise "their child or relative will be killed."
The IOM and numerous human rights groups have for the past six years repeatedly condemned the treatment of migrants and refugees at the hands of traffickers as they pass through the unruly Libya and into the Mediterranean Sea by often unsafe and mass-filled boats bound for Italy.
Yet despite the international attention directed toward the refugee disaster in the sea and then flooding Europe in recent years, it is in many respects continuing to worsen. IOM claims that the number attempting to cross the Mediterranean this year has risen compared with years past – and had already reached more than 60,500 by the end of May with more than 1,500 recorded deaths.