Libya Revolutionary Fighters Claim They Captured Qaddafi's Son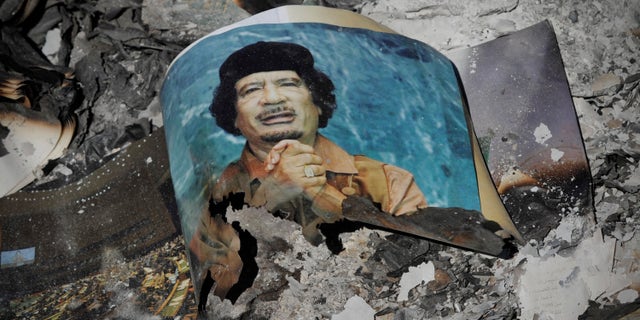 BENGHAZI, Libya – Mutassim Qaddafi has been captured on the outskirts of Qaddafi's hometown of Sirte, the National Transitional Council (NTC) said Wednesday.
Mutassim is the ousted Libyan leader's fifth son, who served as National Security Adviser of Libya in Qaddafi's regime.
Forces also claim the city is now under the control of revolutionary fighters, but NTC has not officially confirmed.
Libya's de facto leader said Wednesday he is optimistic the ex-rebels will declare total victory over forces loyal to Muammar Qaddafi in less than a week, opening the way for a new transitional government to be formed within a month.
Despite heavy resistance, revolutionary forces are closing in on Qaddafi's forces in the ousted dictator's hometown of Sirte, the most important of two major cities yet to be cleared of armed supporters of the old regime.
"I hope that liberation will be declared in less than a week, after we free Sirte, and within less than a month we will form a transitional government and the youth and women will have a role in that," said Mustafa Abdul-Jalil.
Libya's new rulers have promised to declare victory after Sirte is captured and to name a new government that will guide the oil-rich North African nation to elections within eight months.
Ousted leader Qaddafi is still on the run and his supporters also hold the desert enclave of Bani Walid. But the new leaders say Sirte's capture will give them full control of the country's ports and harbors, allowing them to move forward with efforts to restore normalcy and establish a democracy.
Abdul-Jalil made his assertion at a joint news conference with Tunisian Prime Minister Caid Essebsi, who is visiting the eastern city of Benghazi to restore the two countries' once-lucrative trade ties.
Essebsi met with Abdul-Jalil and other Libyan officials during his one-day visit, his first trip since Qaddafi was forced into hiding as Tripoli fell to revolutionary forces in late August.
Before Libya's uprising against Qaddafi broke out in mid-February, Libya and Tunisia had close ties, with some $2 billion in trade and tens of thousands of Tunisians working in Libya.
During the civil war that ensued, Tunisia hosted close to a million refugees from Libya, including tens of thousands of Libyan citizens, many of whom were housed by Tunisian families.
In recognition of that, Libyan officials have said Tunisian workers will be given priority for any reconstruction projects -- a boon to the nation of 10 million that has at least 700,000 unemployed.
Security issues also were on the agenda, as the two countries share a long, poorly patrolled desert border. There are urgent concerns about weapons from plundered Libyan government warehouses ending up in the hands of desert smugglers and Islamic militants.
Tunisia has already reported several clashes in its southern desert regions with gunmen in four-wheel drive vehicles.
Libyan interim Prime Minister Mahmoud Jibril was in Tunis in September to coordinate the two countries' security policies.
Several world leaders and dignitaries have traveled to the oil-rich North African nation as the international community rallies around the new rulers. NATO also has promised to continue its mission until Qaddafi forces no longer pose a threat to civilians.
Spain, however, announced Wednesday that it is bringing back the four F-18 fighter jets it sent to Libya to help enforce its no-fly zone because the governing National Transitional Council controls most of the country's airspace.
She said they will be kept on call and Spain will continue to contribute to the NATO mission with two aerial refueling planes. It also will maintain a frigate and a coast guard surveillance plane to enforce the arms embargo against Libya, but will withdraw its submarine.
The Associated Press contributed to this report.