Libya Officials Claim Rebels Are Not in Control of Mountain Range Areas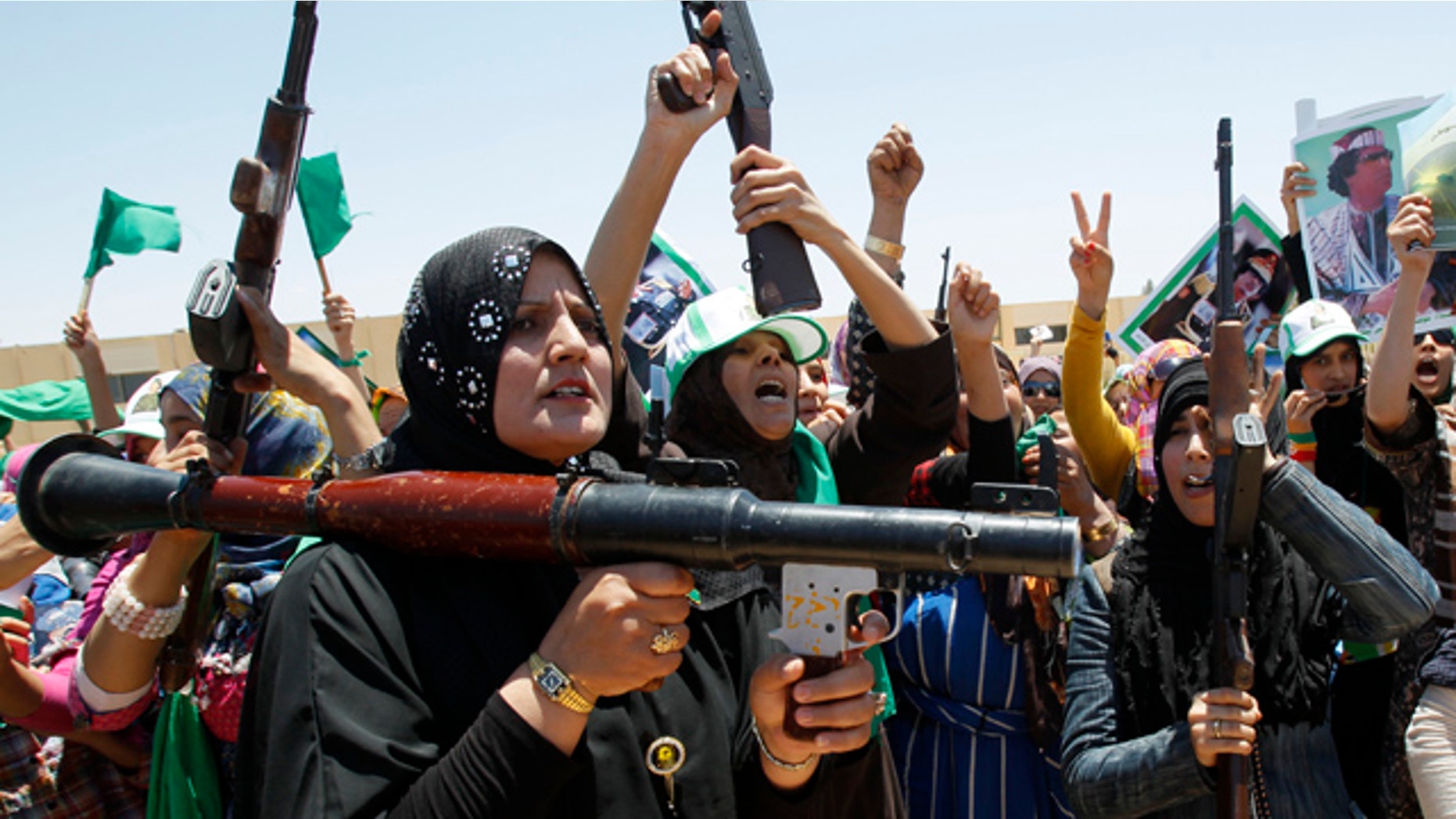 TRIPOLI, Libya -- Libyan officials claimed Wednesday that government forces remained in control of areas around a mountain range southwest of Tripoli that rebel fighters say they are using as a base to advance toward the capital.
The rebels based in villages in the western Nafusa mountains have been slowly solidifying their hold, forming a second front against Muammar al-Qaddafi's troops who are also battling rebels on a few fronts east of the capital.
In Paris, a military spokesman said France sent weapons to rebels in the Nafusa mountain region earlier this month.
In recent days, rebels in the mountains claimed to have advanced to the town of Bir al-Ghanam, some 50 miles from Tripoli. On Tuesday, they said they took over a large weapons storage site some 20 miles south of the mountain town of Zintan.
But Prime Minister Al-Baghdadi al-Mahmoudi played down the reports of mountain rebel advances Wednesday.
"The situation in the western mountains is good, and it's under control," he said when asked about the fighting after a meeting of Cabinet members and municipal governors in a posh sea-front hotel in Tripoli.
The fighting in Libya began in mid-February and has devolved into a civil war, with rebels in control of the eastern third of the country and pockets in the west, including several Nafusa mountain towns.
The municipal governor of Gharyan, a city at the eastern gateway to the mountains and on a major road to Tripoli, acknowledged that there were minor skirmishes with rebels around the town.
But the official, Abdul-Nabi Mohammed Bakir, said the "situation is much better than the news tries to report" and dismissed suggestions of a major rebel advance as incorrect. He spoke to reporters at the meeting in Tripoli, suggesting he remains allied with Qaddafi's government.
"Yes indeed we do have limited numbers of armed individuals who go beyond our lines of defense, just like any thief would do under cover of night. But there are no masses, as you might describe them, of armed rebels," he said. "There are limited numbers of them here or there."
Bakir said he goes to work in Gharyan day and night without being worried about his safety. The city, he said, is "really 100 percent safe from the rebels."
Gharyan lies about 50 miles south of Tripoli.
In Paris, a military spokesman Col. Thierry Burkhard said guns, rocket-propelled grenades and munitions were parachuted in to rebels in the Nafusa mountains following earlier airdrops of humanitarian aid including water, food and medical supplies.
However, a member of the rebel military council in the Nafusa mountains denied that any weapons had been sent.
The official, Col. Gomaa Ibrahim, said rebels would have expressed gratitude, "but we have not received anything from the French forces. We only have weapons (seized) from the Qaddafi forces. ... We have nothing to hide, and we have always asked for help in terms of weapons."
Ibrahim said the leadership council in the rebels' de facto capital in the east, Benghazi, was seeking to clarify the matter with NATO.
Meanwhile, the International Committee of the Red Cross said it was preparing to transport by sea about 600 people in Tripoli who had been cut off from their families to Benghazi on Thursday.
The Red Cross organized a similar ferry journey last week, carrying 294 people to Benghazi. On the return trip, 106 people in the rebel-held city made their way back to Tripoli.
Red Cross spokesman Robin Waudo said the relief agency is working with officials on both sides of the conflict to reunite Libyans separated by the fighting. He said passengers must prove they live in the part of Libya where they are headed to, and may only travel after the Red Cross ensures they are returning willingly.