Libya: NATO Intensifying Bombing to Aid Rebel Push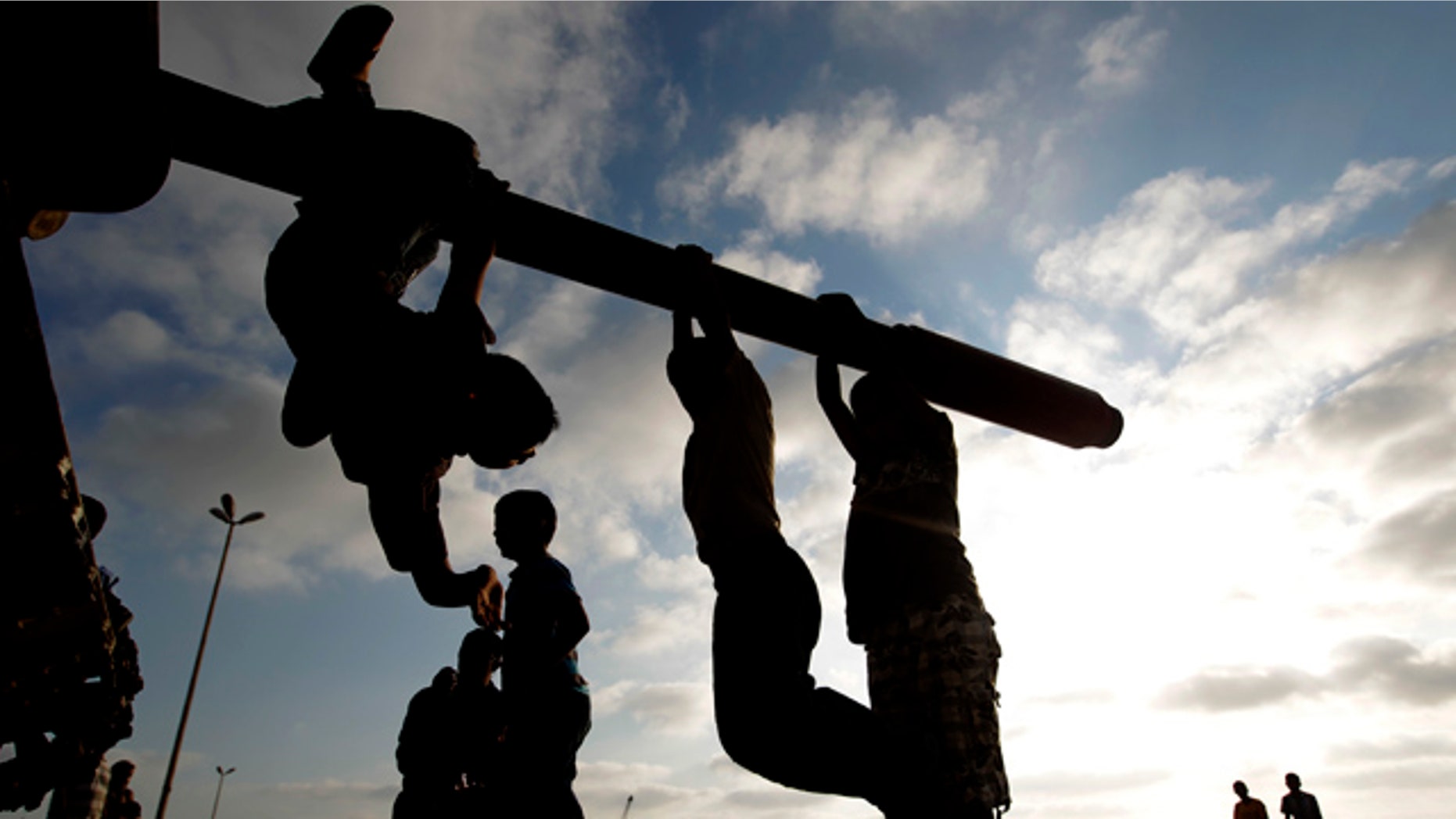 TRIPOLI, Libya – A senior Libyan official on Thursday accused NATO of intensifying its bombing of the country to lay the groundwork for an advance by rebels trying to topple Muammar al-Qaddafi's regime.
Deputy Foreign Minister Khaled Kaim told The Associated Press in an early morning interview that the increased bombings represent the "final phase" of the alliance's air campaign. But he said the push will fail and that civilians will be the ones to pay the price.
Kaim said NATO targeted police checkpoints in the Nafusa mountains southwest of Tripoli ahead of a rebel advance toward the village of Qawalish, which rebel fighters claimed they seized Wednesday. They were later pushed back by government troops, he said.
A fuel depot in the key eastern oil town of Brega was also destroyed, Kaim said. NATO said it hit equipment used to refuel government military vehicles.
The intensified campaign, he said, is focused on targeting civilian infrastructure and police checkpoints, and providing additional weapons to rebel fighters.
"The aim of these attacks is to help the rebels to advance. But I assure you, it will be another failure for them," he said.
NATO began airstrikes against Libya in March. It is joined by a number of Arab allies and is operating under a U.N. mandate to protect civilians.
Some countries in the coalition have interpreted that mandate broadly, with France acknowledging it has provided weapons to rebels operating in the mountains and other countries providing non-lethal aid to rebel-held areas.
Libyan officials earlier this week showed journalists assault rifles and ammunition they claimed had been shipped to rebels by the wealthy Gulf Arab state of Qatar.
In the interview, Kaim also said Libyan forces have evidence that Colombian mercenaries funded by the west and its Arab allies have joined the rebel fighters trying to advance toward the capital Tripoli from the western rebel-held city of Misrata.
Some of the Colombian fighters had been killed in clashes near Misrata on Wednesday, he said. While he was not immediately able to provide evidence to substantiate the allegation, Kaim said it would soon be shown to journalists based in Tripoli.
Rebel forces took heavy losses in the fighting near Misrata. Dr. Ayman Abu Shahma, a physician in the city, said 18 fighters had been killed along with two civilians. Thirty other people were wounded.
NATO late last week announced it had begun ramping up its airstrikes on military targets in the western part of Libya. It said it is targeting government forces in cities and along "major lines of communication."
On Wednesday, Anders Fogh Rasmussen, NATO's secretary-general, said the alliance had damaged or destroyed more than 2,700 military targets since its campaign began.
"The momentum is against Qaddafi, his economic strength to sustain war is declining, his generals and ministers are deserting, the international community has turned against him," he told reporters in Brussels. "For Qaddafi, the game is over."
Fighting between rebels and government troops began in February when a popular movement against Qaddafi quickly escalated into armed conflict.
The civil war has been largely deadlocked, with the rebels controlling the east and Qaddafi clinging to large parts of western Libya, but unable to retake rebel bridgeheads there. The rebels made some gains Wednesday, taking two more towns in the western Nafusa mountains and pushing further from the port city of Misrata, their main stronghold in the west, toward the town of Zlitan, 12 kilometers to the west.