Libya Ex-Rebels Sign Up for Government Jobs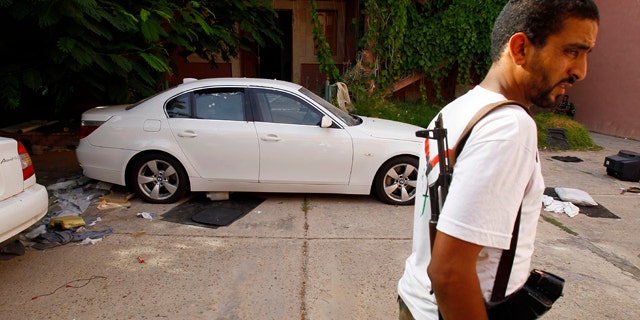 TRIPOLI – Hundreds of former Libyan rebels who helped topple Muammar Qaddafi were filling out applications Wednesday for jobs with the new government as a first step to disarmament, the interior minister said.
Fawzy Abdul-Ali told The Associated Press that former rebels will be asked to turn in their weapons after training and working with the government.
The uncontrolled ownership of weapons has been a major security concern since the end of the eight-month civil war that toppled Qaddafi in October. Rival revolutionary militias that remain armed have clashed repeatedly.
Abdul-Ali said former rebels will have until the end of January 2012 to apply for governments posts through local military councils distributing the applications.
Ibrahim al-Khamsy, 50, hoped that filling out an application will get him a job at an oil rig, like the one he had for 13 years. He also expects the new government to compensate him for the years he spent unemployed after Qaddafii regime officials fired him in 1990.
"I hope I can go back to my old job, but they have to count those years of experience... or give me a raise," he said.
Although the application process was not scheduled to begin until January, several local councils began distributing the applications over the past day.
Mohammed al-Shatewi, a member of one of Tripoli's military councils, said ex-rebels can apply to join the army, the Interior Ministry, a civil institution or to continue their education and study abroad.
The applications ask former rebels what brigade they belong to, what their rank was during the uprising and the serial numbers of the weapons they possess. It also asks them for personal information regarding their education, marital status and if they were wounded in the uprising.
Rabie al-Aib, 31, a former rebel who became disabled during the fighting and is now unemployed hoped that filling out an application will help him get by a little easier.
"I want to get a job, and have a car and a house," he said, mirroring what several other former rebels wrote on their applications.
Former fighters who are unemployed could receive a monthly stipend from the government until they find work, the interior minister said.
National Transitional Council chief Mustafa Abdul-Jalil has noted before that 75 percent of those carrying weapons are unemployed.
According to Munier Karim, the head of a local military council in the capital Tripoli, there are nearly 400 unemployed former rebels out of 1,200 fighters registered with his council. The capital has several local military councils.
The application process is an attempt by the country's new leaders to stamp their authority on the nation and rein in the dozens of armed factions that arose during the war and now are reluctant to disband or submit to the central authority.
NTC officials estimate that 200,000 former rebels need reintegration, and finding them work is a major challenge facing Libya's new rulers.
Officials have said that the government cannot disarm fighters until there are alternatives, including jobs and training.
The government is seeking to dissolve revolutionary brigades throughout the country and unify them into a cohesive national army or police force.
In an interview with the AP, Defense Minister Usama al-Juwali said his ministry needs about 25,000 recruits.
"We need new blood, " he said, noting that the ministry is trying to rebuild and restructure its air force, special forces and border guards, among other branches.
"We need security forces to guard vital institutions and oil companies," he said.
Abdul-Ali, the interior minister, said his ministry needs another 25,000 recruits to restore security to Libya. The Interior Ministry supervises police forces.
Earning around $150 a month as a driver in the desert for an oil company, Bilgassim al-Katib, 22, said he wants to join a security ministry. To him, the application marks the start of a new year and for once, hope for the future.
"I hope the upcoming year will be good. The dictator is gone and we hope the best for a new Libya," he said as he filled out an application.