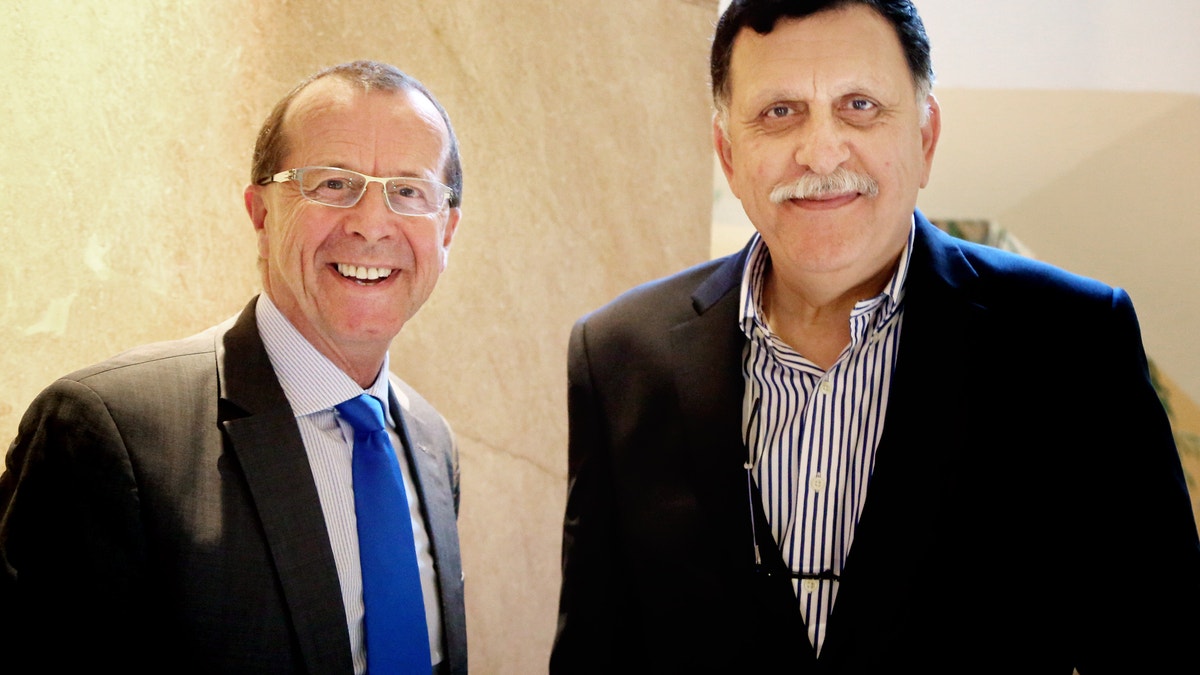 The Islamist-linked government in the Libyan capital has declined to give permission for the U.N. envoy to Libya to land in Tripoli, the diplomat said on Wednesday.
The envoy, Martin Kobler, said on his Twitter account that he has had to cancel another flight to Tripoli because of this. He said he "wanted to help pave the way to peace" and stressed that the United Nations must be given access to the Libyan capital.
Kobler has been pressing Libya's rival parliaments -- the one in Tripoli and a second, based in the far eastern region of the country -- to reconcile and accept a third, U.N.-back government that emerged from a December political agreement between Libya's factions.
The new, U.N.-backed government is facing major challenges, however -- including how to get into Tripoli, something that had been tentatively planned for later this week.
Earlier, Kobler had been slightly more optimistic, telling reporters in neighboring Tunisia on Tuesday that though he doesn't have the exact date, it's "a matter of days, not weeks" for the unity government to install itself in Tripoli despite opposition from the city's authorities.
Libya's chaos, five years after the uprising that led to the ouster and killing of longtime autocrat Moammar Gadhafi, has left the country deeply divided and ruled by an internationally recognized government and parliament based in the east and a rival government and parliament in Tripoli, backed by Islamis-allied militias.
The unity government, brokered by the U.N. and headed by a little-known Libyan technocrat, Fayez Serraj, is supposed to replace the two rival administrations.
The extremist Islamic State group has exploited the years of chaos in Libya and taken control of a central Libyan city and its surroundings, which in turn has given new impetus to Western countries and the U.N. to try to piece the country back together.
Kobler said that "it is urgent to stop the expansion" of the IS group into neighboring countries such as Tunisia. Serraj said that the world and the region "must react quickly" to stop the "cancer." He called on Libyans to set aside differences and build a new, safe Libya.
The two spoke after a ministerial meeting of Tunisia, Algeria, Egypt, Chad, Sudan and Niger, all facing threats by extremists.
Tripoli authorities could not be immediately reached for comment on their refusal to allow Kobler to land. But a Tripoli-based media official, Jamal Zubia, said on his Facebook page that the U.N. envoy "will not visit Tripoli before Monday."
There was no further explanation.