Leopard that attacked school escapes Indian sanctuary
NEWYou can now listen to Fox News articles!
A leopard which injured five people in India before being captured has escaped from the animal sanctuary where it had been taken.
The predator weighing 100lbs squeezed through the narrow bars of an iron cage at the Bannerghatta zoo in the southern city of Bangalore late on Sunday.
A frantic search operation is under way to find the big cat.
State chief wildlife warden Ravi Ralph said: "About 50 officials divided into six teams have been scouring for the leopard in and around the zoo and trying to trace where it has escaped by following its pug (paw) marks."
An inquiry has also been launched into how the leopard managed to get loose.
The zoo does not have CCTV cameras and officials were worried it may have sneaked into a neighbouring national park, which covers 500 acres.
Mr Ralph said: "Even in the cage, the feline was restless and appeared agitated.
"We are hoping to trap it again soon within the park limits, as it would not have gone too far."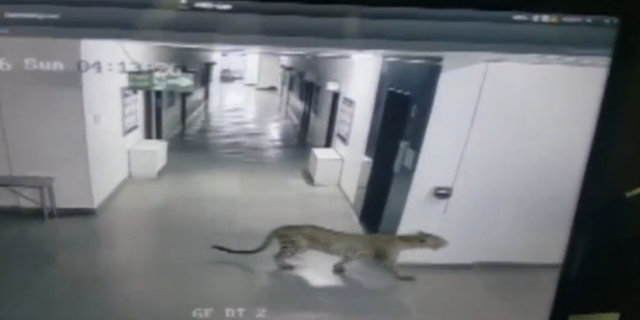 It was spotted on CCTV prowling around a school before going on to attack a man near a swimming pool and injuring four other people.
It was eventually caught after being trapped in a room and shot with a tranquiliser.