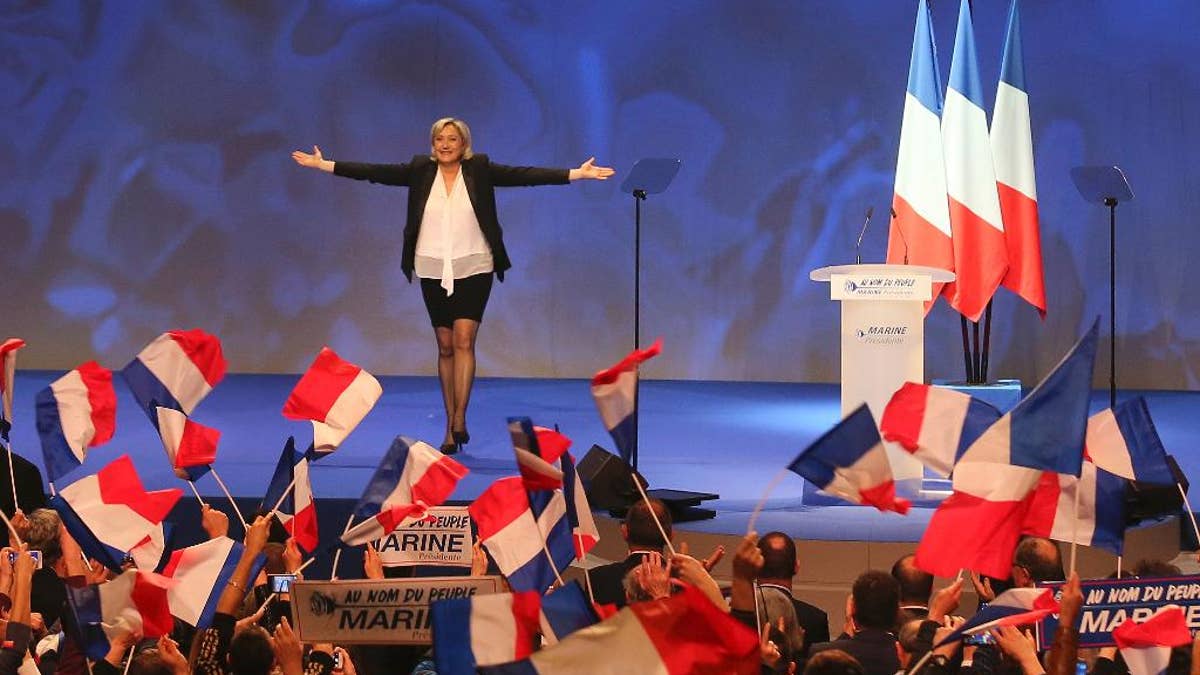 FRANKFURT, Germany – The French presidential election could be a turning point for Europe's biggest economic project, the shared euro currency.
Markets are mostly expecting a pro-euro candidate such as former economy minister Emmanuel Macron to win. And that leaves room for a very sharp drop in markets — and a blow to the longer-term prospects for the survival of the euro — if the winner turns out to be National Front candidate Marine Le Pen, who wants to take her country out of the common currency and the European Union.
Here's a look at what the election outcome could mean for markets and for the European economy.
___
WHAT HAPPENS IF LE PEN WINS?
Most market participants seem to assume that Le Pen will fail. Polls show she has a good chance to be one of the top two in the first round Sunday, but would lose in the second round May 7.
Some signs of nervousness have crept in. There has been a modest increase in the difference in interest rates on French and German long-term government bonds, an indicator of investor tension. The move, however, is nowhere near the volatility seen during the eurozone's debt crisis.
"Markets are still underpricing the risks," says Athanasios Vamvakidis, a foreign exchange strategist at Bank of America Merrill Lynch Global Research.
That means French stocks and government bonds and the euro could all drop if Le Pen wins. The euro, currently around $1.07, could head down toward one-to-one with the dollar. And it wouldn't be limited to France. Stocks and bonds would likely fall in economically weaker eurozone economies like as Italy, Portugal, and Greece.
Frank Engels, managing director at Union Investment, says an anti-European outcome would be "a major shock to equity markets."
Markets rose after Donald Trump's surprise election on anticipation of more government spending on infrastructure, tax cuts, and renewed inflation, the so-called "reflation trade." But Le Pen might be different.
"The threat that the European integration project could be at risk as a whole makes it a different scenario that could end the bull market, to some extent," said Engels. "I doubt that the market would just return to daily routine and that the bull market would be back in full force. I would argue that the market would need to digest this for quite a while until you could potentially see the underlying economic fundamentals being strong enough to resume the reflation trade."
___
WHAT ABOUT OTHER SCENARIOS?
All that would hit the markets even sooner, if the top two finishers this Sunday are Le Pen and leftist candidate Jean-Luc Melenchon. He too has questioned the basic foundations of the euro, such as the independence of the European Central Bank and limits on governments' budget deficits. He has called for business-unfriendly measures such as a 32-hour work week.
A Le Pen-Melenchon runoff is not likely but "for markets, that would be a nightmare," said Diego Iscaro, senior principal economist at analytical firm IHS Global Insight. "If that happens, after the first round, all the market volatility, instead of waiting for the first week of May, we would have it after the first round."
The most market-friendly option would be if the two most pro-EU candidates — centrist Macron and Francois Fillon, a center-right advocate of pro-business reforms — make it to the second round.
___
WHAT IS IT ABOUT LE PEN THAT WOULD SCARE INVESTORS?
Above all, it's the idea of France withdrawing from the European Union and the euro. Introducing a new currency, as Le Pen has proposed, could lead to widespread turmoil. French stocks and bonds would likely drop as investors fear being switched into a new currency that would fall in value. An attempt to repay bondholders in new francs instead of euros could lead to France being ruled in default by ratings agencies. Losses on French bonds — 60 percent of which are held outside France — would spread woes throughout the financial system.
A mitigating factor is that even if she reaches the presidency, Le Pen probably won't be able to implement her full program. Her National Front, or FN, currently has only two seats out of 577 in the National Assembly. Legislative elections June 11 and 18 may give the party more seats. But it is unlikely to win a majority. Even if a referendum on EU and euro membership is held, polls show a majority of the French people favor the single currency.
HIS analyst Iscaro said that "markets will have to consider whether the policies in the FN manifesto will ever be implemented... That may lead to markets stabilizing, at least until the legislative elections."
___
ARE THERE LONG TERM RISKS?
A further risk — whoever becomes president — is that the eurozone's flaws are not patched, leaving it vulnerable to a future crisis.
Those cracks were exposed by the debt crisis that forced the member governments to give bailout loans to Greece, Portugal, Ireland, Cyprus, and to Spain's banks. The eurozone has struggled to find a way to adjust to economic trouble. Member countries cannot devalue their currencies, a handy way to make an economy more competitive in times of trouble, since they no longer have one of their own. And the currency lacks a central fiscal pot to even out recessions in individual countries.
It is hard to see Le Pen, an economic nationalist, cooperating with other countries on strengthening the eurozone. Fixes under discussion — promoting cross-border shareholding and EU-wide deposit insurance, for instance — would stall. And the EU would likely struggle to come up with a common front on sanctions against Russia, negotiations on Britain's departure from the EU, and trade with the United States.
A Le Pen win would "at worst signal the end of the European Union, but even in the more upbeat scenarios we would see the institutional development grind to a halt," said IHS analyst Iscaro.
Something similar could happen under Macron, who also lacks backing from a strong party.
He would have to tackle France's longstanding problems such as youth unemployment and terrorism, or risk another National Front challenge at the next election, in 2022.
Says Iscaro: "It doesn't matter what your position on the EU is, if youth unemployment is still at 23 percent in 2022."