Le Pen calls for France to restore border controls after ISIS-claimed attack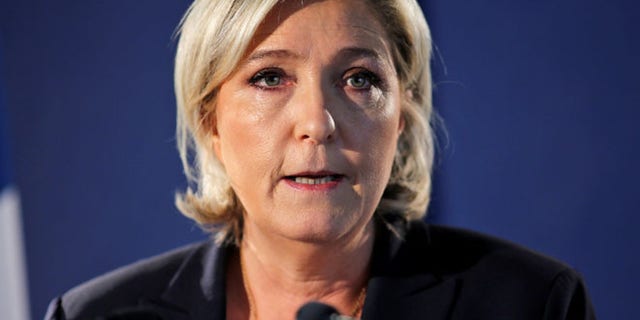 NEWYou can now listen to Fox News articles!
France's far-right presidential candidate Marine Le Pen on Friday called on President Hollande to restore the country's border controls one day after a gunman opened fire on police on the Champs-Elysees.
"Because our country is at war, the response must be global, total," she said, according to Bloomberg. She went on to say that the French government has been weak in its effort to confront terrorism.
French citizens head to the polls in two days for the first round of the country's election.
One police officer was killed and two others seriously injured when a gunman with an automatic weapon opened fire. Officers shot and killed the assailant. Officials said the assailant was armed with an automatic firearm akin to a "war weapon."
The suspect's name was not publicly released. The Islamic State group claimed responsibility for the attack and gave a pseudonym for the shooter, Abu Yusuf al-Beljiki, indicating he was Belgian or had lived in Belgium. The attacker opened fire on a police van on the avenue before being killed.
Two French officials said the gunman was detained in February for threatening police then freed.
The officials spoke Friday to The Associated Press on condition of anonymity because they weren't authorized to publicly discuss details of the probe into Thursday night's attack.
The officials said the gunman was detained toward the end of February after speaking threateningly about the police but then released for lack of evidence.
He was convicted in 2003 of attempted homicide in shootings on two police officers.
Besides Le Pen, other presidential candidates have expressed their solidarity with police forces. The 11 candidates were appearing on a television program ahead of the first round of voting in the two-part election when the attack occurred.'
Conservative contender Francois Fillon said on France 2 television he was canceling his planned campaign stops on Friday.
Paris' iconic Champs-Elysees boulevard is reopen and picking up its usual early morning routine Friday. Delivery trucks were making their rounds. Traffic was going up and down the famous tree-lined street and police barriers have been taken down.
The Associated Press contributed to this report