Le Clos marks London win with worlds gold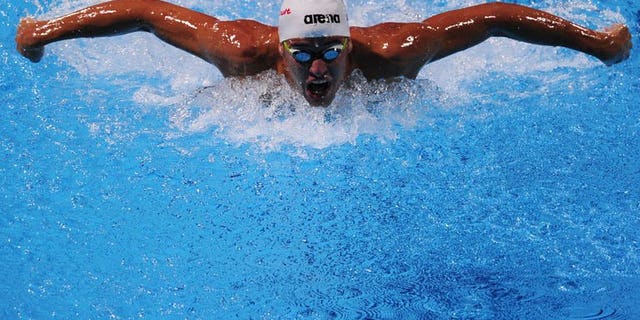 BARCELONA (AFP) – South African swimmer Chad le Clos celebrated the one year anniversary of his Olympic 200 metres butterfly gold in perfect fashion Wednesday as he added the world title in the event in Barcelona.
The 21-year-old, who beat legend Michael Phelps on the wall in the Olympic final, clocked 1min 54.32secs with Poland's 2005 world champion Pawel Korzeniowski 0.29 behind and China's Wu Peng third at 0.37 back.
"It is the first time I have won a world title so it is a landmark moment for me," beamed Le Clos.
"I wanted to win this title to mark the anniversary of my Olympic title.
"It is the exact same day that I won the gold last year and almost to the hour, so it is a very special day for me to win the world gold."
Le Clos admitted with US star Phelps now retired and no longer the name to beat, he struggled to cope with the 'favourite' tag.
"I think going into the race I was a little bit anxious, I didn't expect to go in as first seed so as you come out last, it is a little bit nerve-wracking," he said.
"My main goal was just to try and win tonight.
"Last year I remember being really relaxed before my race and not worrying about anything.
"Just before they called my name tonight I could really feel the butterflies going so I am just so delighted to get the win.
"I actually heard my dad shouting 'Go Boy!' just before I jumped in and my mum is also here which is great.
"I didn't think it was going to be as hard as it was.
"When I came back from a two-month break I had a small injury and I think that was due to a lack of motivation.
"I wanted to be 100 percent fit before I started, I believe you can't do things half-heartedly, if you're going to train you've got to train properly."
Poland's Korzeniowski, 28, only returned to training at the start of 2013 after injury which cost him any sponsors, and was pleased with his silver.
"I just wanted to swim with Chad and at 150 metres I was in a very good position, but the last fifty was decisive and he was the better man," said the 2009 world silver medallist.
"This is my third World Championship medal, I won in Montreal and I got second in Rome, so I am very happy.
"I broke my foot and missed training for 2 months, I only started back in January so it is not a long time.
"I didn't have any sponsors: after the Olympics I got injured and no one would sponsor me anymore so hopefully now I will get some sponsors to go to the Olympics in Rio."
Wu, 26, who won world silver in this event six years ago, was content with his bronze.
"I didn't prepare for this championship for a long time so I am very satisfied with this bronze medal," he said.