Lawyer says Chinese court sentences Uighur scholar to life in prison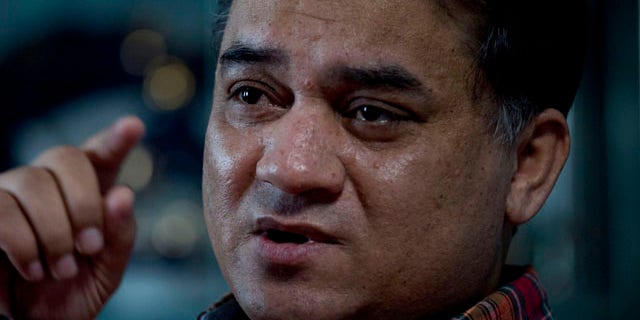 BEIJING – An outspoken scholar who championed China's Uighur minority was convicted of separatism Tuesday by a Chinese court and sentenced to life in prison, according to the scholar's lawyers.
The Urumqi People's Intermediate Court convicted Ilham Tohti after a heavily guarded two-day trial that ended last week, said lawyer Li Fangping by telephone outside the courthouse. The court didn't answer several telephone calls Tuesday seeking information about the trial.
Li said the court also ordered the confiscation of all of Ilham Tohti's possessions.
Ilham Tohti had been calm during the proceeding but shouted out "I don't agree!" when the sentence was read, Li said.
He was known as a moderate voice with ties to both the country's Han Chinese establishment and the Muslim Uighur ethnic group that has long complained about what they say is harsh treatment under the government. A Communist Party member and professor at Beijing's Minzu University, Ilham Tohti ran a website, Uighur Online, that highlighted issues affecting the ethnic group. Chinese authorities detained the scholar in January along with seven of his students.
"Of course, this life sentence is too much," Li said. "But he has said that no matter what the result, this should not lead to hatred. He has always said he wants to create a dialogue with the Han Chinese."
Tuesday's sentence will leave Ilham Tohti's wife, Guzulnur, with no means to take care of their two young children, Li said.
Human rights activists said the harsh sentence revealed the Chinese government's intolerance of criticism from even the most conciliatory of voices.
During the trial, prosecutors had cited Ilham Tohti's lectures and online writings, including his discussion of the different roots of Han Chinese and Uighur peoples.
"It'll send a strong signal to (Uighur scholars) there's not much to be gained to take some risks and personal initiative to bridge the gap between what obviously people on the ground are feeling, severe discontent with the way things are going, and explaining them to Han policymakers," said William Nee, a Hong Kong-based researcher with the human rights group Amnesty International.
The outraged response was immediate online from human rights activists and artists.
Chinese writer Wang Lixiong said via Twitter the government had created a "Chinese Mandela," referring to South African leader Nelson Mandela who was jailed for 27 years before becoming president. Columbia University Tibet specialist Robert Barnett called the sentence "deeply shocking" on Twitter.
Tensions have run high and flared into violence in the Xinjiang region where many of China's Uighurs live. Authorities said several explosions killed two people Sunday in central Xinjiang but did not say who carried out the attacks.
In May, police said, 43 people died when Uighur militants plowed two vehicles through a market street in the regional capital of Urumqi and hurled explosives.
After the recent violence, authorities have prohibited people in the region from having beards or wearing veils, and locals say many have been detained for speaking out about the situation there.
Ilham Tohti's 20-year-old daughter, Jewher Ilham, said Tuesday from Indiana, where she's studying, that she would continue to fight for her father's release. The authorities arrested her father in January of 2013 in Beijing's main airport as he was boarding a plane to take her to school in the U.S.
"He wanted me to stay in a land that has freedom," she said. "I'm speaking out for him. I won't stop."