Lawsuit claims UN forces introduced cholera epidemic to Haiti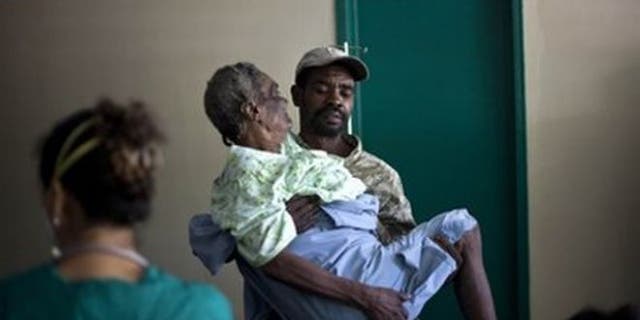 United Nations peacekeepers sent to protect Haitian citizens instead re-introduced cholera into the country, according to a lawsuit that will reportedly be filed in federal court in New York Wednesday.
The New York Times reported that the lawsuit will be filed by the Institute for Justice and Democracy in Haiti (IJDH), a Boston-based group that has pressed the U.N. to acknowledge some culpability for the outbreak of the disease, which has killed more than 8,300 people and sickened more than 650,000 since the outbreak began in October 2010. A spokeswoman for the organization told The Times that the lawsuit was filed in New York City due to it being the site of the U.N. headquarters and the home of a large Haitian expatriate population.
Scientific studies have shown that cholera was likely introduced to the country by U.N. troops from Nepal, where the disease is endemic, and spread through sewage contamination at the troops' barracks. The U.N. maintains it has legal immunity from such compensation claims.
U.N. Secretary General Ban Ki-Moon said this past February that the U.N. would not accept claims for compensation from victims of the outbreak, citing a provision of the 1946 Convention on the Privileges and Immunities of the United Nations, and claiming that the U.N had "worked closely with the people and Government of Haiti to provide treatment, improve water and sanitation facilities, and strengthen prevention and early warning."
But earlier Tuesday, U.N. High Commissioner for Human Rights Navi Pillay made a rare case for compensating the victims of the epidemic, but did not say didn't say who she thought should pay.
"I have used my voice both inside the United Nations and outside to call for the right — for an investigation by the United Nations, by the country concerned, and I still stand by the call that victims of — of those who suffered as a result of that cholera be provided with compensation," Pillay said at an awards ceremony for human rights activists in Geneva.
Pillay said she raised the compensation issue almost a year ago when she was asked a question at a lecture at Oxford University
Asked about Pillay's comments, U.N. associate spokesman Farhan Haq, said it is not the "United Nations' practice to discuss in public claims filed against the organization."
Nicole Phillips, a lawyer for the IJDH, told the Associated Press that Pillay's "public support for the cholera victims' claims could be a game changer in their claims against the U.N." However, it is not clear if a federal judge will accept the lawsuit.
Click for more from The New York Times
The Associated Press contributed to this report.