Lawmaker arrested at British fracking site protest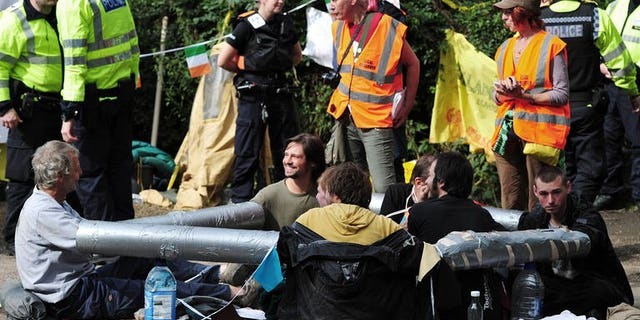 BALCOMBE, United Kingdom (AFP) – A prominent lawmaker from Britain's Green Party was among some 30 demonstrators arrested at anti-fracking protests outside a drilling site in southeast England on Monday.
Caroline Lucas had been sitting with protesters outside the entrance to energy firm Cuadrilla's test drilling site in Balcombe, Sussex, as police said hundreds demonstrated against the controversial extraction method of hydraulic fracturing.
Lucas is the opposition Green Party's first and only lawmaker voted into the British parliament.
The site in rural Balcombe has become the focus of a national campaign against fracking. Protesters have been camping out in a bid to take "direct action".
"Along with everyone else who took action today, I'm trying to stop a process which could cause enormous damage for decades to come," Lucas said in a statement.
"The evidence is clear that fracking undermines efforts to tackle the climate crisis and poses potential risks to the local environment."
More than 400 officers from Sussex Police were deployed to the demonstration. They said they moved in to clear people from an emergency access route.
Around 30 people had been arrested, police said.
"Protesters encamped along the roadside had been joined by hundreds more from the nearby camp that had been established last Thursday, many locking arms and blocking the road and others gluing themselves together or attaching themselves to fencing and other items," Sussex Police said in a statement.
"Officers had earlier removed a number of bicycles that had been locked together and left lying across the road, creating a serious safety hazard for the large group that had gathered there."
Fracking involves using huge amounts of pressurised water mixed with chemicals to crack open shale -- sedimentary rock containing hydrocarbons -- to release natural gas.
Environmentalists have warned that chemical-laced waste could contaminate fresh water resources, while fracking could cause minor earthquakes.
Fracking has unlocked an energy boom in the United States but other countries have banned the technique.
The British government reckons fracking could increase its energy security, create thousands of jobs and boost tax revenues, while cutting energy bills.
"We had been expecting some form of direct action today and we had officers in place ready to deal with it," said police superintendent Lawrence Hobbs.
"We are more than happy to facilitate peaceful protest, but those who are intent on criminal action will be arrested."