Lavatsa brace takes Kenya to top in Cosafa Cup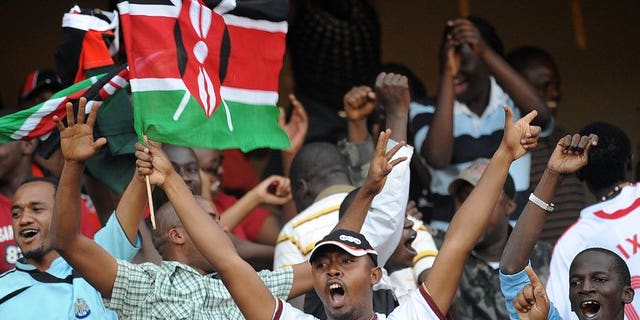 JOHANNESBURG (AFP) – An Edwin Lavatsa brace gave Kenya a 2-0 win over Swaziland Tuesday and top place in Group B of the Cosafa Cup.
Lesotho netted in stoppage time to draw 3-3 with Botswana in a thrilling second half of a double-header in the Zambian town of Kitwe.
Jerome Ramatlhakwane scored a hat-trick for Botswana at the Arthur Davies Stadium, but Thabelo Tale levelled on 93 minutes
Kenya, many of whose stars were playing a third game in as many days, top the table with four points going into the final round Thursday.
Lesotho and Botswana have two points each and are also in contention for first place and a quarter-final date with former winners Angola.
Swaziland cannot finish first, but could decide who does as they face Lesotho in Lusaka while Kenya and Botswana match-up in Kitwe.
After domestic league fixtures two days ago, Kenya came from two goals behind to hold Lesotho 2-2 Monday.
Fears that three matches in three days would take its toll proved unfounded as they were far too strong for the limited Swazis.
Lavatsa struck after just five minutes on a warm, clear mid-winter afternoon in the heart of the Zambian copper-mining region.
Racing on to a through pass, he stabbed the ball past onrushing goalkeeper Nhlanhla Gwebu, star of a 0-0 weekend draw with Botswana.
A Lavatsa volley into the corner of the net nine minutes after half-time confirmed the Harambee Stars' supremacy.
Democratic Republic of Congo-based Ramatlhakwane struck after five and 51 minutes to give the Zebras a two-goal advantage.
But a Lesotho side continually booed by local spectators drew level through a Ralekoti Mokhahlane penalty and a Nkau Lerotholi header.
The unsporting crowd behaviour stemmed from Lesotho snatching a draw against Zambia in Maseru last March and denting their World Cup hopes.
Rattled Botswana regained the lead 11 minutes from time when Ramatlhakwane completed the first hat-trick of this tournament.
But Tale grabbed his second goal of the 15-day championship to earn Lesotho a point and keep alive hopes that the Crocodiles can progress.
Namibia won Group A Monday by coming from behind twice to defeat the Seychelles 4-2 at Nkoloma Stadium in Lusaka.
The Brave Warriors face depleted South Africa in a last-eight line-up completed by title-holders Zimbabwe against Malawi and Zambia against Mozambique.
Started in 1997, the Cosafa Cup was stopped three years ago when the South African brewery which bankrolled it withdrew.
But the company returned this year and Zambia hope a successful hosting will boost chances of staging the 2019 Africa Cup of Nations.