Latino students front and center in latest resignation over race of college dean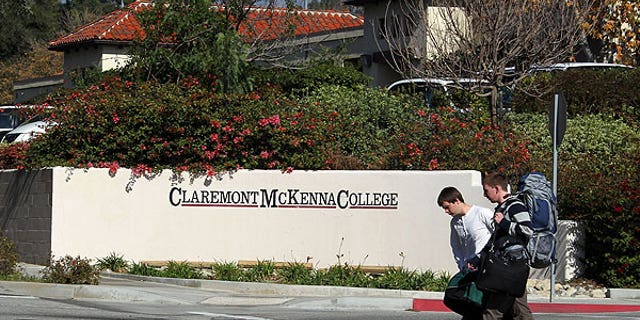 The dean of students at a small Southern California college resigned Thursday because of controversy following racial concerns on campus sparked by two incidents involving the Latino community.
Mary Spellman, a dean at Claremont McKenna College, about 50 miles east of downtown Los Angeles, announced her resignation in an e-mail to students a day after a protest, led by students of color, blasted her for not doing enough to address minority students' concerns over issues of safety and feeling marginalized on campus.
Spellman's resignation is the latest in a string of resignations at institutions of higher learning across the country following protests over race – most prominently at the University of Missouri, Yale University and UCLA.
On Oct. 25, Spellman sent an e-mail to Lisette Espinosa, a Latina undergraduate, in which, protesters claimed, she suggested minority students "don't fit our CMC mold." Tensions escalated after a black student, Casey Garcelon, posted a photo of several white CMC students dressed in sterotypical Mexican Halloween costumes on Facebook.
"Don't tell me I'm overreacting. Don't tell me I'm being too sensitive," Garcelon said in the post. "My voice will not be silenced. I'm mentally drained from being a part of this community, and I've had enough."
According to Garcelon's Tumblr feed, the students in the photo apologized, but she turned down requests to remove the photo from her Facebook account because she was tired of feeling silenced by her institution about her concerns.
As reported by the CMC Forum, the events led to discussion and protests on campus from students who felt the dean of students' office had not done enough to address their concerns regarding other instances of racism. The controversy culminated with Spellman's resignation Thursday.
"I believe it is the best way to gain closure of a controversy that has divided the student body and disrupted the mission of this fine institution," Spellman wrote in an e-mail to students and faculty. "Most important, I hope this will help enable a truly thoughtful, civil and productive discussion about the very real issues of diversity and inclusion facing Claremont McKenna, higher education and other institutions across our society."
Spellman's resignation came just a day after she addressed students directly at a protest, apologizing for the "poorly worded e-mail" she sent to Espinosa in which she offered to talk to the student about her issues.
"The CMC mold is the thing I talk to students about everyday," she said, explaining she was trying to offer support to a student on the same issues that she had been working to address. "They come to me, and they me how, 'I don't fit in.' That is what I am referring to as the mold."
At the protest, two students said they were going on a hunger strike until Spellman resigned. Other students held signs that read, "It's too late to say sorry," and "I'm not your CMC Mold." Students say they were upset with a lack of response from the administration after presenting a list of demands as to how they can better support students of color, including the creation of a resource center or another space exclusively for students of color.
The liberal arts school had 1,325 students enrolled last fall, including 57 African-Americans, 180 Hispanics and 137 Asians.
On Wednesday, one day before resigning, Spellman had declared she would continue to be at the school to fight for students and to support them. On the same day, the school president announced the creation of new student "leadership positions" on diversity and inclusion.