Latino activists in Chicago will join 'Black Christmas' protest; call for mayor to resign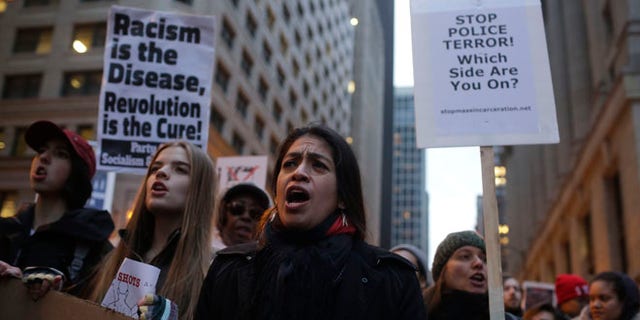 A group of Latino activists in Chicago, outraged over the police killing of Laquan McDonald, are joining African American groups who are demanding that Mayor Rahm Emmanuel step down.
Taking up "Fuera Rahm!" as their rallying cry, the Latino Coalition for Change and other Hispanic groups will join the "Black Christmas" march down Chicago's main shopping street, Michigan Avenues, on Christmas Eve to demand the resignation of Emmanuel and Cook County State Attorney Anita Alvarez.
"We're extremely outraged by the cover-up and the execution-style murder of Laquan McDonald by Officer Jason Van Dyke," Carlos Perez, the founder of Nosotros Somos America, one of the groups participating in the "Black Christmas" march, told Fox News Latino. "It just reeks of injustice."
Laquan McDonald was shot 16 times in October 2014 by police Officer Jason Van Dyke, who faces six counts of first-degree murder and one of official misconduct. Squad-car footage was released late last month following a judge's order, and protests have taken place almost daily since the video was released.
Van Dyke is scheduled to be arraigned Dec. 29.
McDonald's death became the latest police shooting involving a minority that has sparked civil unrest. Protesters have turned the McDonald shooting into a rallying cry. Their chants of "16 shots and a cover-up" have taken place alongside the "I can't breathe" refrain that followed the video that showed Eric Garner being taken down by a New York police officer in a fatal chokehold.
Chicago officials fought the release of the video, arguing that it could interfere with any resulting court case. Acting on a judge's order, the city released it just hours after Alvarez announced charges against the officer.
"We hold our police officers to a high standard and obviously in this case, Jason Van Dyke violated both the standards of professionalism that come with being a police officer but also basic moral standards that bind our community together," Emanuel said.
Perez told FNL that while many in the city's Latino community have supported – and even joined in – the protests that have taken place in Chicago since late November, the decision to participate in the "Black Christmas" march en masse is the first time activist groups have joined forces with Chicago's African-American community.
"The protest movement has been very spontaneous, so it took as groups a few weeks to really organize ourselves and our message," Perez added.
One of the main goals of marching through one of the Windy City's main shopping thoroughfares on Christmas Eve is to draw the attention of business owners and wealthy Chicagoans.
"The Magnificent Mile is like the Champs-Élysées of Chicago; its where all the high-end shops and hotels are and it's where all the tourists go," Perez said. "We want the business community in Chicago to get behind the idea of ousting Rahm Emmanuel from office."
The Associated Press contributed to this report.