Last groups of South Koreans leave shuttered North Korean factory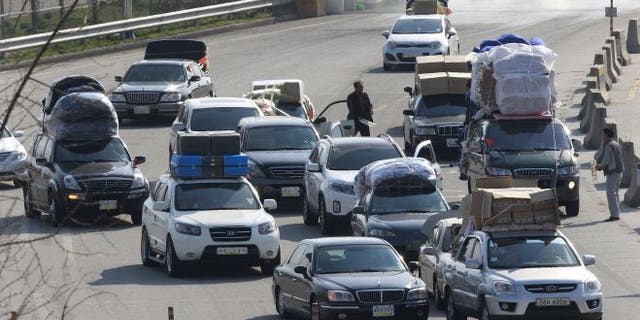 SEOUL, South Korea – The final group of South Koreans working in a shuttered factory park in North Korea is expected to leave Monday after their government ordered them to leave the border city, as Pyongyang issued a new threat to shut down the last symbol of detente.
The group will follow a similar group that left Saturday after stuffing their cars with as much as they could take from their factories in the North Korean city of Kaesong, located just on the other side of the Demilitarized Zone dividing the two Koreas.
A total of 125 South Koreans left Saturday, and the last 50, including those who manage the facilities, will leave Monday, the Unification Ministry said.
Once the last South Koreans leave, what will become of the jointly run factory park remains unclear.
"It is only a matter of time" before the complex shuts down for good, an unnamed spokesman for North Korea's General Bureau for Central Guidance said Saturday. "We treasure the Kaesong industrial complex but won't bestow favors on those who return evil for good."
Until earlier this month, 53,000 North Korean workers were managed by 800 South Koreans at more than 120 South Korean-run factories in a special economic zone in Kaesong. The decade-old arrangement provided Kaesong with work and salaries, and the South Koreans with cheap labor.
But as tensions flared between Seoul and Pyongyang over North Korea's nuclear ambitions, joint U.S.-South Korean military drills and other perceived slights, Pyongyang pulled its entire work force out on April 9 and banned South Koreans from crossing the border to bring food and supplies.
With factories suspending operations and food supplies dwindling, Seoul issued a Friday deadline for North Korea to agree to talks on Kaesong.
After Pyongyang dismissed the call as an insufficient show of sincerity, Ryoo Kihl-jae, South Korea's top official on relations with North Korea, announced that Seoul would pull the rest of the South Koreans from Kaesong out of concern for their safety.
Han Jae-kwon, head of the association of South Koreans managing factories in Kaesong, expressed regret that the government made the decision without notifying them first. Speaking in front of businessmen running factories in Kaesong, he called on Seoul to continue to pursue dialogue with Pyongyang over the industrial park.
"I came down for the time being with the hope that the Kaesong industrial complex would reopen later," Lee Byung-yun, a South Korean worker, said after crossing the border on Saturday.
Dozens of cars, many of them covered with cargo from hood to trunk, lined up at a checkpoint to enter South Korea after arriving from the North across the heavily fortified border between the two countries.
The park, which broke ground in 2003, is the last joint Korean project left from a previous era of reconciliation. Other projects, including tours to a scenic mountain in North Korea and to downtown Kaesong, were suspended in recent years.
However, Lee Hochul, a political science professor at Incheon National University in South Korea, noted that neither side has decided to permanently shut down the industrial complex.
"This is a war of pride between the Koreas, but they are conducting it while leaving some room for talks," he said.