LAPD under fire for role in alleged meeting with former Mexican Mafia leader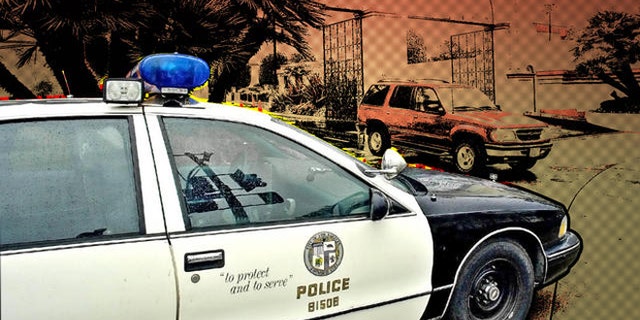 The Los Angeles Police Commission president has called for an investigation into a decision to use LAPD resources to arrange a meeting between a group of business leaders, local police chiefs and a former convict known for his affiliation with the Mexican Mafia.
President Steve Soboroff called the LAPD's involvement in the event "very, very misconceived and surprising."
"It's a giant waste of public resources," he said, according to the Los Angeles Times. "I have all the obvious questions."
The meeting in question took place Wednesday evening from about noon until late in the evening and saw a heavy LAPD presence in downtown Los Angeles – including a bomb squad - with unmarked cars and about a half-dozen officers spotted in an alley behind the large building that appeared to house businesses and homes.
LAPD Deputy Chief Michael Downing tried to assuage concerns about any nefarious aspects behind the meeting, saying it was an "LAPD-sponsored event" where officers heard the man describe his experience with a "transnational criminal enterprise."
"He talked about how it grew, how it was branded, how it expanded, how it evolved," Downing said of the meeting, which he estimated lasted about an hour and a half.
While Downing declined to provide the name of the speakers, some attendees leaving the gathering were seen with copies of the book "The Black Hand: The Bloody Rise and Redemption of 'Boxer' Enriquez, a Mexican Mob Killer."
Enriquez spent 20 years working for the notorious Mexican Mafia prison gang and in 1993 pled guilty to two counts of second-degree murder and two counts of attempted murder. In 2000, he left the prison gang and began to work with California law enforcement.
State prison records obtained by the Los Angeles Times showed he was still in custody as of Wednesday and Downing said the high level of security was needed because the speaker was in custody and "for his own protection."
LAPD Chief Charlie Beck said he knew of the meeting, but when asked about the benefit to officers attending to the meeting, he said that it was "not an endorsement."
"He offers a perspective on organizations and leadership that is unknown to much of this audience," Beck said via text message to the Times.