LAPD detective investigating Derrick Rose in rape case dead from gunshot to head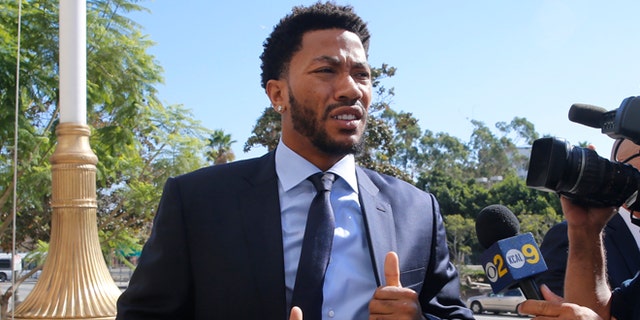 NEWYou can now listen to Fox News articles!
An LAPD detective who was investigating rape allegations leveled at NBA superstar Derrick Rose was found dead Tuesday with a gunshot to the head inside a Los Angeles area home.
Authorities told the Los Angeles Times that the gunshot was apparently self-inflicted.
Nadine Hernandez, 44, was one of two detectives assigned to Rose's case and was frequently involved in high-profile sex crime cases as part of the LAPD's Robbery-Homicide Division Special Assault Section.
Police in the Los Angeles county city of Whittier were called to a home in the area after receiving a report of an attempted suicide. Upon arriving they found Hernandez with a gunshot wound to the head. She was taken to PIH Health Hospital in Whittier, where she died at 3:27 p.m.
"We're investigating it," Whittier Lt. Steve Dean told the Los Angeles Times.
The home where Hernandez was found was registered to a retired LAPD lieutenant who was apparently a relative of Hernandez.
The case stems from a $21.5 million lawsuit filed by an unnamed 30-year-old woman, claiming that in August of 2013 Rose and his friends raped her at her apartment while she was incapacitated from drinking and, possibly, drugs.
The news of the sudden death broke on the same day that U.S. District Court Judge Michael W. Fitzgerald ruled out a mistrial sought on the grounds that the lawyers for the plaintiffs had failed to disclose text messages to the defense.
Fitzgerald said the accuser's legal team had failed its legal obligation to share the texts, but there was a "minimal amount of prejudice" against Rose and his friends. He said he would instruct jurors that the texts were disclosed recently and allow defense lawyers to question the accuser about the messages.
"I'm not going to dismiss it now," Fitzgerald said. "I'm not going to declare a mistrial when we have a jury in the box."
The woman's lawyers said the texts were shared with the defense, but they couldn't prove it. They also argued the defense had other messages showing the same thing.
The decision came the day after Rose testified that he had a hunch the woman was going to claim the men raped her when he received a suspicious text later the same day.
The texts described burns the woman claimed she got on her hands from a fire pit outside his Beverly Hills house and said she had been "wasted" the night before. Rose said he never witnessed any burns the night before and that she seemed sober.
"It looked like a setup," Rose said. "It turned out to be what I thought."
The Associated Press contributed to this report.
Like us on Facebook
Follow us on Twitter & Instagram