Lance Armstrong says ex-head of International Cycling covered up doping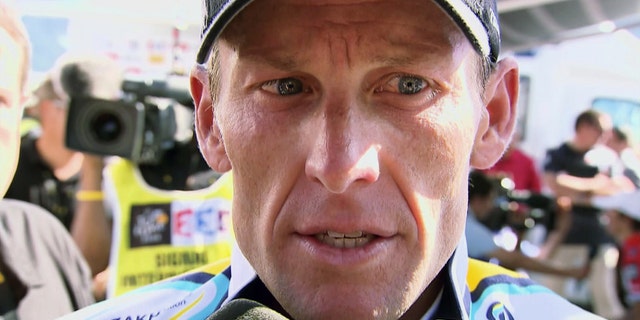 Disgraced cyclist Lance Armstrong is claiming the former president of the cycling world's governing body was aware of his doping and helped cover it up.
After years of denial, Armstrong admitted last year to taking performance-enhancing drugs during his career, and was stripped of his seven Tour De France titles.
Now Armstrong says Dutchman Hein Verbruggen -- the ex-president of the International Cycling Union (UCI) -- agreed to blame a positive 1999 drug test on a backdated prescription for a steroid cream to treat saddle sores. The prescription was provided by the medical staff of Armstrong's sponsor, the U.S. Postal Service.
Armstrong made the new claims in an interview with London's Daily Mail Sunday. He says Verbruggen was complicit to help protect the image of the sport.
"The real problem was, the sport was on life support [after the 1998 Festina drugs scandal]. And Hein just said, 'This is a real problem for me, this is the knockout punch for our sport, the year after Festina, so we've got to come up with something'. So we backdated the prescription," Armstrong said.
Verbruggen has denied any culpability in the past. In a letter he personally delivered in February to the 15 most important Olympic officials, Verbruggen attacked the World Anti-Doping Agency and denied he had helped with any coverup of Armstrong's doping, the Mail reported.
"Coverups never took place. Not only would this never have been allowed, but there simply was nothing to cover up. Armstrong, nor his teammates, never tested positive," Verbruggen wrote in the letter.
Verbruggen said his conscience was "absolutely clean" in a letter to the national federations published earlier this month, according to a BBC report. "I have never acted inappropriately. With the benefit of hindsight, however, I admit that I could have done some things differently, but I do not accept that my integrity is in doubt," he wrote.
The UCI stripped Armstrong of his seven Tour de France titles in 2012 and the U.S. Anti-Doping Agency accused him of the "most sophisticated, professionalized and successful doping program sport has ever seen."
Armstrong may be going after Verbruggen in an effort to get his lifetime ban from cycling reduced. He did not mince words when speaking about the former cycling president. 'To think I am protecting any of these guys after the way they treated me, that is ludicrous. I'm not protecting them at all. I have no loyalty toward them. 'I'm not going to lie to protect these guys. I hate them. They threw me under the bus. I'm done with them,' Armstrong said.
Armstrong is expected to appear before an independent inquiry ordered by new Cycling President Brian Cookson. His cooperation with the investigation could be rewarded with a less severe punishment.
Click for more from the Daily Mail.