Ladies in White Tries to Regroup After Death of Founder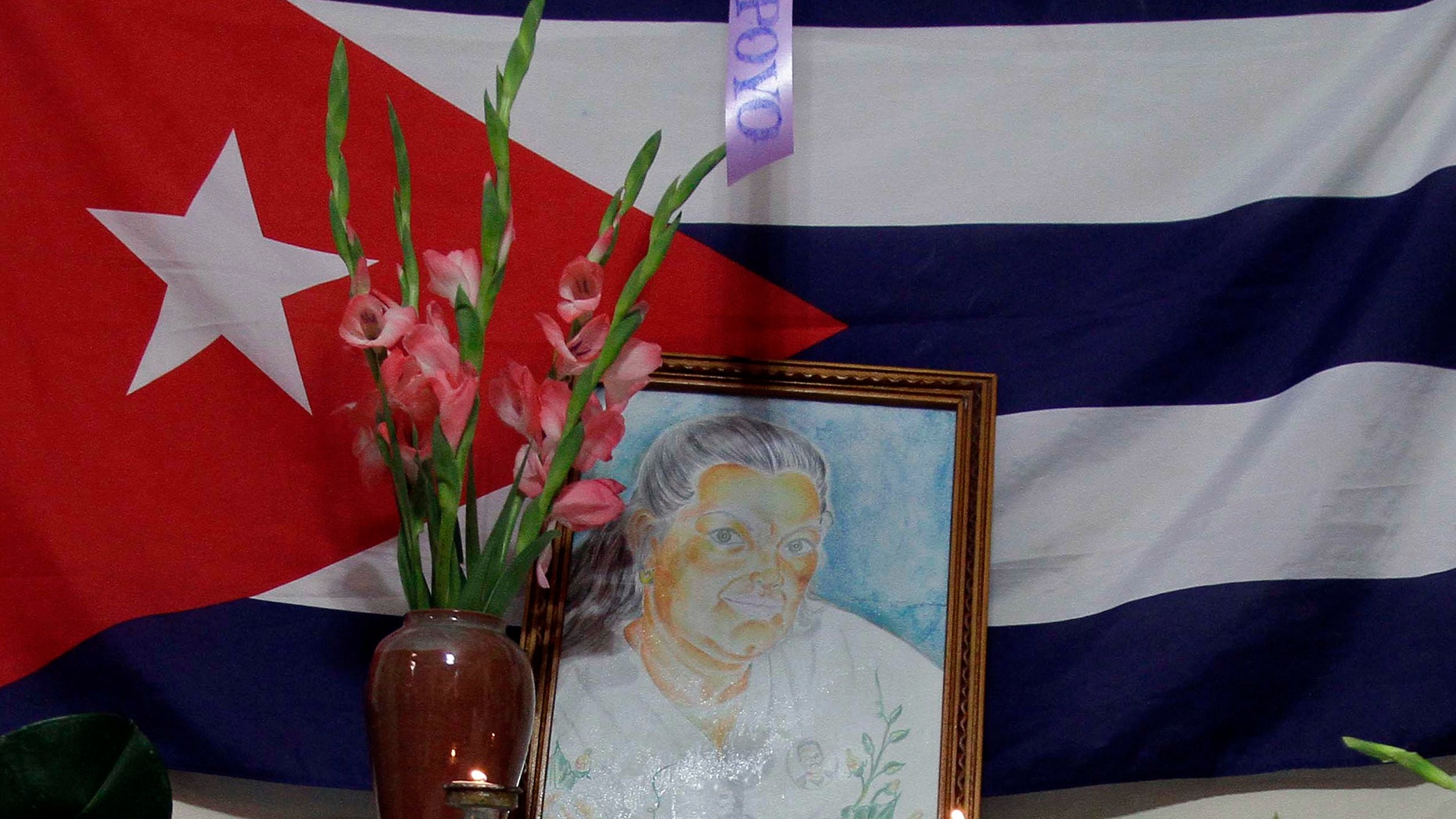 The death of Laura Pollán, a spiritual leader who founded Cuba's Ladies in White, poses new challenges for a group already struggling to stay visible.
While Laura Pollán's passing Friday from a respiratory virus likely isn't an existential setback for the group, analysts said, it will be no simple matter replacing the energetic woman who sheltered many of the Ladies in her home headquarters and rallied them to march despite a sometimes-hostile reception.
"I suspect that it's not a blow like a before-and-after, in terms of them disappearing," said Ted Henken, who studies Cuba as a professor of Latin American studies at Baruch College in New York. "But I think it's key because she was a charismatic and organizational leader."
Pollán founded the group in 2003 with about a dozen other women whose husbands were among 75 government opponents arrested and sentenced to long prison terms in one of the biggest crackdowns on dissent in decades.
Over the years they grew to about 30 members and became a weekly sight along the leafy 5th Avenue in Havana's Miramar district, marching each week after Mass back to the city center, clad in white and holding gladiolas.
Mourning Pollán at her home this weekend, the Ladies said they would march in her memory Sunday, and beyond.
"We rose up to stay until our country is free, and we will keep marching," said Alejandrina Garcia de la Riva. "That is Laura's legacy."
Dissident Elizardo Sanchez, head of the Cuban Commission for Human Rights and National Reconciliation, said Pollán's death could galvanize the opposition.
Dissidents will be "morally reinforced, because she is a woman who dedicated her life to fight for the cause of human beings," Sanchez said. But he hastened to add: "It is an irreparable loss."
Despite the Ladies' claims to be a nonhierarchical group that makes decisions by consensus, Pollán was its most public face and unofficial leader, to whom they often turned for guidance.
Perhaps equally important, it was Pollán's home that served as a kind of refuge and command center for launching protests. For years the front door was open nearly around the clock, revealing white-clad Ladies inside. Many relied on it as a crash pad when visiting from far-flung provinces.
Set in the gritty, densely populated neighborhood of Central Havana, the home was in a perfect location to maximize the Ladies' visibility among average Cubans as they came and went on their marches. It also became a flashpoint for counterdemonstrations known as "acts of repudiation," by pro-government crowds who sometimes surrounded the home yelling insults and revolutionary slogans and prevented the women from leaving.
"The regime is more afraid that (the Ladies') message can get through if they are in Central Havana. That's why there have been so many acts of repudiation there," said Laura Garcia Freyre, a doctoral candidate at the National Autonomous University of Mexico who has been researching the Ladies and other dissidents since the 1990s. "The home played an important role ... and we'll have to see what the Ladies in White will do not only without the figure of Laura Pollán but where will they meet."
The two women most likely to step into the void, Bertha Soler and Garcia de la Riva, live in the outlying district of Alamar and several hours away in Matanzas province, respectively, and it's hard to imagine a new headquarters being effective in those locations given Cuba's underdeveloped transportation infrastructure.
Even before Pollán's death, the Ladies already found themselves at a crossroads.
Like most in the island's tiny dissident community, the Ladies in White's names are little known in Cuba. State-run newspapers and TV stations rarely acknowledge the dissidents except to accuse them of trying to topple the government as "mercenaries" in the hire of Washington and militantly anti-Castro exile groups in Florida.
Meanwhile, the release earlier this year of the last of their husbands still in prison from the 2003 crackdown can be counted as the Ladies' greatest success — but it also robbed them of the cause for which they came to exist.
Pollán said in September that they were expanding outside the capital and refocusing on demands that the government release others behind bars for politically motivated but violent crimes including hijacking and sabotage, which keeps them from being recognized as prisoners of conscience by groups such as Amnesty International.
Her death makes their mission that much harder, said Hector Palacios, one of the ex-prisoners.
"Laura played an important role in organizing the Ladies and maintaining the group's work, and without a doubt, replacing her will not be easy."
Based on reporting by The Associated Press.
Follow us on twitter.com/foxnewslatino
Like us at facebook.com/foxnewslatino