L.A. Girl With Dad In Deportation Asks Pope Francis To Push For U.S. Immigration Reform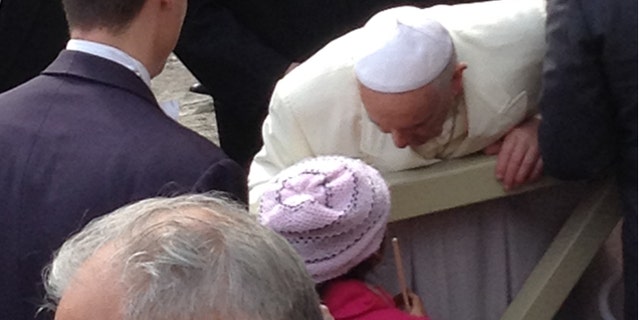 NEWYou can now listen to Fox News articles!
Young Jersey Vargas arrived at the Vatican Wednesday morning carrying a cloth handkerchief her mother sewed with the words "Nest of Love" across the front.
The 10-year-old girl's hope was to be able to hand it directly to none other than the pope himself.
Despite a note from Los Angeles Archbishop José Gomez that got Vargas and a group of southern California immigration activists a general audience with Pope Francis, in reality there was still a slim chance that the young girl would actually get close enough to get a good look at leader of the Catholic Church, let alone be able to ask him to help her father, who faces deportation.
But yet there he was, standing right in front of her.
The talkative and self-assured Vargas quickly handed Pope Francis the engraved good-luck charm she had brought from California and received a blessing and kiss from the pope, before pleading her family's case to the pontiff.
The unlikely gathering took place just one day before Pope Francis was scheduled to receive President Barack Obama.
I think he'll talk to President Obama about it because it's important to stop deporting people and breaking up families.
"I told him to pray for my family and to ask the president to stop deportation because it's separating my family," Vargas told Fox News Latino in a telephonic interview from Rome following her papal visit. "He blessed me and told me he would bring this up with President Obama."
Vargas was part of a group of about a dozen immigration activists who traveled to Rome seeking an audience with Pope Francis to ask him to speak to Obama about immigration reform. The group also delivered more than 1,000 letters to the pope from children whose families are in danger of deportation or have family members who were deported, said Doris Benavides of the L.A. Archdiocese.
"They handed more than 1,000 letters from the children of undocumented immigrants to the Pope," Benavides. "It's our big hope that this will lead to the start of more communication in terms of passing immigration reform."
After a meeting with the Congressional Hispanic Caucus earlier this month, Obama pledged to look into more humane ways to deal with immigration. The caucus had been planning to draft a resolution demanding the president curb deportations and give a break to millions of other undocumented immigrants just like he did with so-called "Dreamers."
In 2012, Obama announced an initiative, known as DACA, suspending deportation for two years for undocumented immigrants brought to the United States as minors and who meet other criteria. Those immigrants who qualified for DACA have been able to obtain work permits and driver's licenses.
In 2013, the Senate passed a bipartisan immigration reform measure that both tightened enforcement and called for a path to legal status for certain undocumented immigrants. But the effort stalled in the House, where Republicans have a majority and where there is resistance to any measure that would provide a path to legalize for undocumented immigrants.
Amid the perennial impasse over immigration reform Washington, activists like those in Rome right now claim that reaching out to Church leaders for support can help put a human face on the dilemma.
"I think that there is no one better way than the pope to frame the issue in a human dimension that can be understood by everyone concerned," Immigration activist Juan José Gutiérrez, the trip coordinator, told Los Angeles media.
While Obama's meeting with Pope Francis Thursday is expected to focus mainly on global poverty, Vargas is hopeful that her the pope will take her message to heart and will press Obama on immigration.
"I think he'll talk to President Obama about it because it's important to stop deporting people and breaking up families," Vargas said.