L.A. City Council moves ahead with effort to protect undocumented street vendors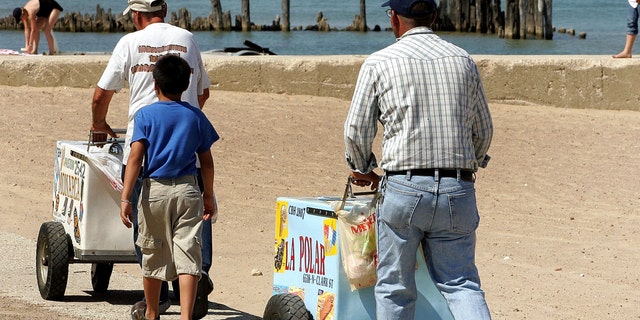 NEWYou can now listen to Fox News articles!
Two members of the Los Angeles City Council announced a proposed policy that could impact hundreds of sidewalk vendors in the city, many of whom are Latinos.
According to the Los Angeles Times, council members Curren Price and Joe Buscaino have proposed removing criminal penalties for vendors who have no permit, and it would not allow those seeking a permit to be asked about their immigration status.
A public hearing on the issue is scheduled at City Hall on Dec 12.
The plan will need to be approved by the Public Works and Gang Reduction Committee before it goes to the City Council.
The motion was initially introduced by Price three years ago, according to the Times, in order to protect the rights of all of the residents living in his district, almost 80 percent of whom are Latino.
Activists in Los Angeles have said that the vendors have been unfairly targeted, harassed and criminalized for simply trying to make a living.
The push to adopt the plan, Price said, was prompted by fears of what Donald Trump will do once he is sworn in as president in January.
"This has been an issue we have been working on for the past several years. It's certainly gotten increased focus because of the statements made by our president-elect," Price told the Times. "We're working to decriminalize street vending activity."
Buscaino, who was an LAPD officer for 15 years, told the Times that he was concerned about the street vendors under the new administration. "These are individuals who are providing for their families and doing everything they can to put food on the table," he said.
Like us on Facebook
Follow us on Twitter & Instagram