Kurds issue desperate plea from Syrian border town as ISIS closes in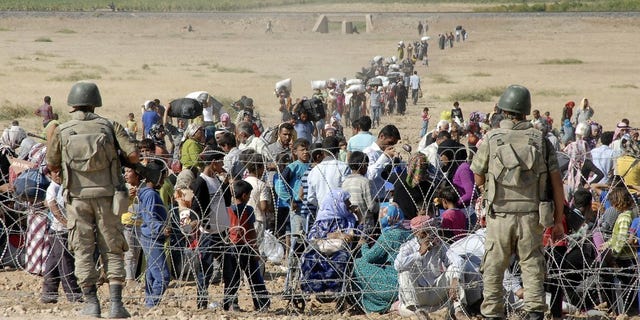 Even as U.S. airstrikes continued to pound Islamic State positions in Syria, Kurdish fighters told FoxNews.com the terror organization was advancing on the Syrian town of Kobani, where as many as 400,000 residents and refugees are holed up.
"Tell the world what is happening" said Rooz Bahjat, a senior Kurdish military officer said Wednesday by phone. "This could be a massacre if no help arrives."
Desperate field commanders in Kobani, also known as Ayn al-Arab, fear the worst unless help arrives soon, and note 70,000 refugees have already fled across the border into Turkey. Hundred of thousands more, including women, remain, ready to fight.
[pullquote]
"What happened on Mount Sinjar will seem like nothing compared to this if ISIS gets through," Bahjat said, referring to the Iraqi mountain village where thousands of religious minorities were under siege from Islamic State fighters until U.S. airstrikes broke their hold. "They have now surrounded the city and are fighting on all sides."
Kobani is ringed by Islamic State tanks, artillery and mortars, and they are now just miles from the city, Bahjat said.
The town's population of 60,000 has swelled to 400,000 in recent months as refugees - mainly Turkmen and Kurds - poured in to escape fighting elsewhere. Refugees who have fled to Kobani have recounted seeing their villages burned and their neighbors beheaded.
Polat Tan, a senior commander with the Kurdish militia in Syria, which is defending Kobani, said time is running out.
"We will do everything to resist these advances," he told FoxNews.com. "We will fight till every last drop of blood, but if help does not arrive soon, disaster is at hand."
Islamic State forces have been attacking Kobani for months, but Wednesday's assault marked a huge escalation. Sources said militants have cut off electricity and water supplies and and refused to let humanitarian aid into the city.
While Kurdish fighters issued their plea, President Obama, who this week initiated airstrikes in northern Syria by a U.S.-led coalition speaking at the United Nations, asked the world to join together to fight the militants and vowed to keep up military pressure against them.
"The only language understood by killers like this is the language of force, so the United States of America will work with a broad coalition to dismantle this network of death," Obama said in 40-minute speech to the U.N. General Assembly.
Coalition strikes killed scores of Islamic State fighters in the first 24 hours, the first direct U.S. foray into Syria. But Kurds said Islamic State had responded to the bombing campaign by intensifying its assault near the Turkish border in northern Syria.
The advance on Kobani underscored the difficulty Washington faces in defeating Islamist fighters in Syria, where it lacks strong military allies on the ground.
"Those air strikes are not important. We need soldiers on the ground," said Hamed, a refugee who fled into Turkey from the Islamic State advance, told Reuters.
Mazlum Bergaden, a teacher from Kobani who crossed the border on Wednesday with his family, told the media outlet two of his brothers had been taken captive by Islamic State fighters.
"The situation is very bad. After they kill people, they are burning the villages.... When they capture any village, they behead one person to make everyone else afraid," he told Reuters. "They are trying to eradicate our culture, purge our nation."