Kurdish forces in Syria to battle ISIS in Raqqa this summer, commander says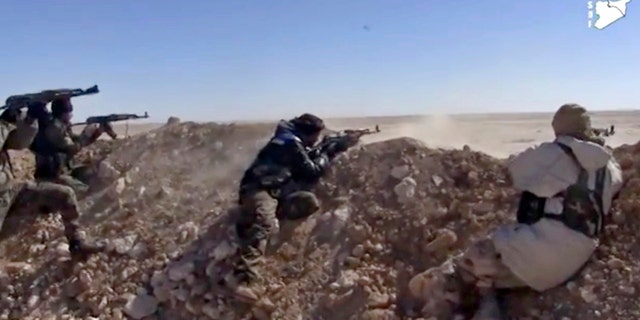 A key battle in the fight against the Islamic State in Syria is expected to unfold this summer, a commander said on Friday.
U.S.-supported Syrian Kurdish forces are moving ahead with plans to retake Raqqa in the northern part of the country. The region has served as the de facto capital for ISIS.
But the battle to capture the area can't happen until the Kurds receive heavy weapons from the U.S. military, according to the Syrian Democratic Forces (SDF) commander. The commander, identified by The Associated Press as Abdelqader, didn't specify dates at a news conference announcing the plans, citing tactical concerns.
The deputy head of the SDF said the fight would start "in the beginning of the summer."
"We will storm and liberate (Raqqa) city," Qahraman Hassan told AFP.
LIFE INSIDE ISIS CAPITAL RAQQA: IMPOSSIBLE TO LIVE, IMPOSSIBLE TO LEAVE
The announcement followed news of a Trump administration plan to arm the Kurdish elements of the SDF. The plan, publicized earlier this week, was met with an outcry from Turkish officials opposed to the involvement of the Syrian Kurdish forces. Turkish government officials have offered their own troops, saying they don't want the Syrian Kurds, whom they consider terrorists, to take Raqqa.
Still, the SDF said that it would move on with the plan regardless of any Turkish opposition. "They can solve their problems in their country," Abdelqader said of Turkey. "We do not want any other forces to participate with us."
Turkish President Recep Tayyip Erdoğan has claimed he would convince Trump to reverse his support of the SDF in a meeting between the two leaders at the White House next week.
ISIS SURRENDERS CONTROL OF KEY SYRIAN CITY OF TABQAH, US CENTRAL COMMAND SAYS
Around 3,000 ISIS fighters are believed to still be in Raqqa, according to The Telegraph, with an estimated 300,000 people living under jihadist rule.
The area had been considered to be the "caliphate capital" of ISIS since the terror group swept into the city in 2013, but recent reports say the group is now centered in Deir ez-Zur, approximately 90 miles southeast of Raqqa.
The Associated Press contributed to this report.