Korea veteran fails to make it to battle site where friend went down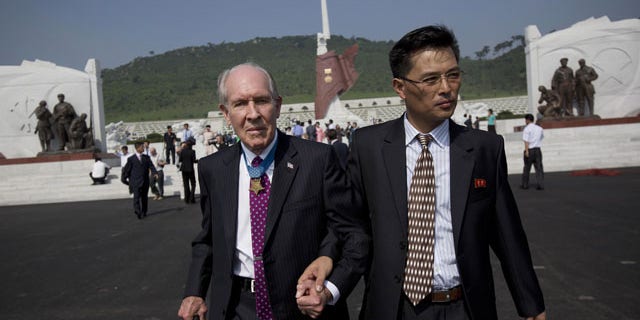 PYONGYANG – A decorated Korean War veteran from Massachusetts left North Korea on Monday without fulfilling his mission: to travel the Chosin Reservoir battleground where he was hoping to locate the remains of a friend who was the U.S. Navy's first black aviator.
Retired Navy Capt. Thomas Hudner was visiting Pyongyang in hopes of following through on a promise made to wingman Ensign Jesse Brown in December 1950 as Brown lay dying in his crumpled plane.
"We'll come back for you," he told Brown after crash-landing his own plane in a bold but unsuccessful bid to try to rescue his friend.
The 88-year-old had hoped to travel to the site of the crash, known in North Korea as the Jangjin Reservoir, to search for his friend's remains. However, heavy monsoon rains and flooding in the rugged mountains in north-central North Korea, northeast of Pyongyang, prevented the veteran from making the difficult journey.
Hudner's trip took place as North Korea was marking the 60th anniversary of the Korean War armistice. Because the foes never signed a peace treaty, the Korean Peninsula remains in a technical state of war, and the U.S. and North Korea still do not have diplomatic ties.
Brown holds a special place in U.S. military history: In 1948, just after the U.S. armed forces were desegregated, the young man from Hattiesburg, Mississippi, became the first black American to earn his Navy wings. The unlikely friendship and brotherhood between the sharecropper's son and his white wingman is the focus of upcoming book by Adam Makos, who accompanied Hudner on the trip to North Korea.
On Sunday, Senior Col. Pak Gi Yong assured Hudner that the Korean People's Army was committed to helping him find the spot in the area where he and Brown went down. He said last week that the army sent an advance team to Jangjin but that flooding had washed away roads to the site, making travel to the region treacherous.
Brown is among more than 7,910 Americans still missing in action from the Korean War. The U.S. and North Korea had agreed to carry out joint searches for their remains, with excavations beginning in 1996. But in 2005, as Washington and Pyongyang locked horns over North Korea's nuclear ambitions, the U.S. government suspended the searches.
Last year, following negotiations in Bangkok with Pak and his team, the U.S. Defense Department's Joint POW/MIA Accounting Command prepared to resume the search. But those plans were scrapped following North Korea's decision to launch a satellite in space on board a long-range rocket -- widely seen as a test of missile technology.
Hudner, of Concord, Massachusetts, said he was disappointed but hoped to return later in the year to finally fulfill his promise to Brown.
"I have a feeling of great hope as a result of our mingling and meeting the officials here in (North) Korea," he said before departing. "I feel we've accomplished a lot because of the appearance of mutual hope between us and the North Koreans."