Kigali says two mortar bombs fired into Rwanda from DRC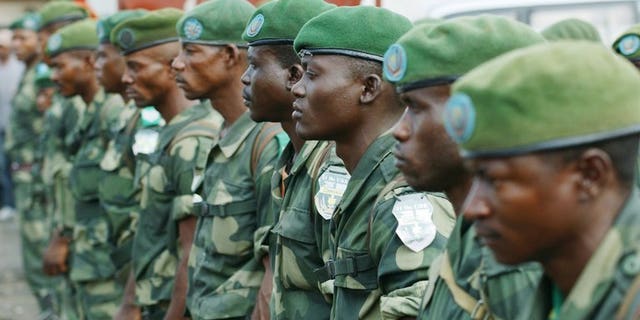 KIGALI (AFP) – Rwanda's military spokesman said two mortar bombs were fired into the country from neighbouring Democratic Republic of Congo on Monday.
He said the bombs, which caused no injuries, were fired in mid-afternoon "deliberately" and blamed the DRC army - the FARDC - and the UN force MONUSCO on the grounds they were fired from territory they control.
"Two bombs landed at Kageshi and Gasiza," Joseph Nzabamwita said in a statement, referring to two villages in Rubavu district in northwestern Rwanda which borders the troubled eastern DR Congo.
Nzabamwita said the attack was a "provocative and deliberate act by FARDC and MONUSCO since there was no fighting nearby between the warring factions."
His accusation came amid fierce clashes across the border between the DRC army and M23 rebels, which flared again Sunday around the flashpoint Congolese city of Goma, leaving at least 130 dead, according to a government spokesman.
Rwanda, along with neighbouring Uganda, has been accused of backing the M23, a charge both countries have denied.
Meanwhile Kigali has accused the DRC of co-operating with Rwandan Hutu rebels from the Democratic Forces for the Liberation of Rwanda (FDLR) whose leaders are wanted for their alleged involvement in the 1994 Rwandan genocide.
Nzabamwita said the army had "credible information" that FDLR rebels were "currently embedded" in the DRC army.
The M23 briefly seized control of Goma, the capital of DRC's North Kivu province last November but then pulled out.
The rebel group has since been weakened by an outright split into two factions and ensuing internal fighting that resulted in heavy casualties and a wave of desertions.
Talks in the Ugandan capital Kampala destined to restore calm to North Kivu started in December but have made little headway.
Since the talks started the only outbreak of fighting recorded between M23 and the army was in May.
The M23 however is just one of a myriad of armed groups operating in eastern Congo and other groups are involved in skirmishes and abuses against the civilian population on a regular basis.