Kerry Presents Pakistan With U.S. Demands on Militant Concerns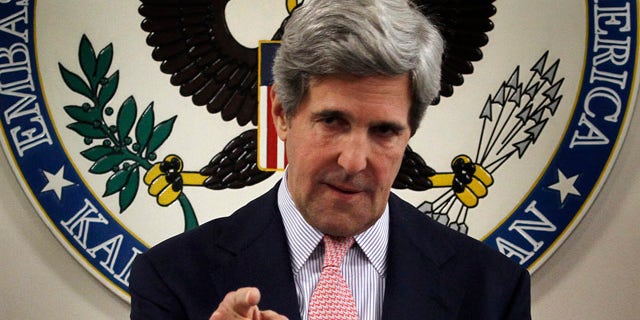 ISLAMABAD – U.S. Sen. John Kerry gave Pakistan's army chief a list of "specific demands" relating to American suspicions about Pakistan's harboring of militants ahead of meetings Monday that could shape a partnership dangerously strained by the raid that killed Usama bin Laden, a Pakistani official said.
U.S. officials have increased pressure on Pakistan since the May 2 American raid in Abbottabad -- a northwest Pakistan garrison town where bin Laden was killed by U.S. Navy SEALs. But they also seem to be trying to balance their anger, aware of the risk of wholly severing ties with the nuclear-armed country. Pakistan's cooperation is considered vital to ending the war in Afghanistan.
Kerry, the chairman of the Senate Foreign Relations Committee, is the first American emissary to visit Pakistan since the raid. Known to be a friend of Pakistan, what he is told by Pakistani army and civilian leaders could be key to American policy going forward.
Kerry arrived late Sunday and went quickly to see army chief Gen. Ashfaq Parvez Kayani, handing him the list of U.S. demands, according to a Pakistani government official. The official spoke on condition of anonymity and declined to give more details because of the sensitivity of the subject.
On Monday, Kerry met with Pakistani Prime Minister Yousuf Raza Gilani and was slated to see President Asif Ali Zardari.
The U.S. has long pressed Pakistan to take action against several powerful Afghan Taliban factions sheltering on its soil. The leader of the Afghan insurgency, Mullah Omar, is widely believed to be in the southwest Pakistani province of Baluchistan, and allegations he is being harbored by the country have been strengthened since the death of bin Laden.
Bin Laden is believed to have lived in a large compound in Abbottabad for years, not far from Pakistan's premier military academy. Pakistani civilian and military leaders deny knowing where bin Laden was and have called the U.S. raid a violation of their country's sovereignty.
Kayani told Kerry his soldiers have "intense feelings" about the raid, in apparent reference to anger and humiliation here that Washington did not tell the army in advance about the helicopter-borne raid, and the fact it was unable to stop the incursion.
Zardari's office, meanwhile, said U.S. Secretary of State Hillary Rodham Clinton called him Sunday to discuss the raid's fallout in Pakistan. Clinton has spoken of the need to keep strong ties with Pakistan, and stressed there's no evidence yet its leaders knew of bin Laden's whereabouts.
While in Afghanistan on Sunday, Kerry made it clear to reporters that patience was running thin in Washington, where many have long suspected that Pakistan aids and abets Afghan Taliban and other militant groups. Many in Congress are saying that Washington should cut aid to the country.
"The important thing is to understand that major, significant events have taken place in last days that have a profound impact on what we have called the war on terror, a profound impact on our relationship as a result," Kerry said.
He added that "we need to find a way to march forward if it is possible. If it is not possible, there are a set of downside consequences that can be profound." He did not elaborate.
In a parliamentary resolution Saturday, Pakistani lawmakers did not mention the fact that bin Laden was living in the army town or the suspicions of collusion, but instead warned of the consequences if any more American incursions were take place in the future.
They also threatened to stop NATO and U.S. trucks from using its land routes to ferry supplies across the border to troops in Afghanistan unless Washington does not stop missile attacks on its territory.
Much is at stake. The United States needs Pakistan's cooperation if it hopes to find a solution to the Afghan war and help a reconciliation process that hopes to fashion a nonmilitary solution to the Taliban insurgency. It also needs Pakistan's military help against insurgents using its lawless tribal areas to stage attacks against American, coalition and Afghan forces.
It also needs to ensure that nuclear-armed Pakistan does not succumb to rising Islamic extremism and its own tenacious insurgency, which has cost the lives of thousands of soldiers and civilians.
Pakistan's failing economy desperately needs American and other foreign aid. Since 2002, Pakistan has received more than $20 billion from the U.S., making the country one of the largest U.S. aid recipients, according to the Congressional Research Service. Nearly $9 billion of that has been reimbursements for Pakistan's costs to support the U.S.-led military campaign in Afghanistan.
In a sign of how politically hot the raid has become, the government of Punjab, Pakistan's wealthiest and most populous province, announced Monday that it wants to stop taking foreign aid.
Punjab is run by a party that is in the opposition on the federal level, and Punjab Chief Minister Shahbaz Sharif said the decision by his Cabinet still needs approval by the party.
It's also unclear how much foreign aid goes directly into Punjab's government coffers -- much of it is funneled through aid organizations or the federal government. So the announcement could be largely political theatrics.
It is time for Pakistanis to "insist on dignified and honorable relations with the superpowers and refuse to compromise our national interests, freedom, and sovereignty," Sharif said in announcing the move.