Kerry Mideast visit in doubt due to wife's health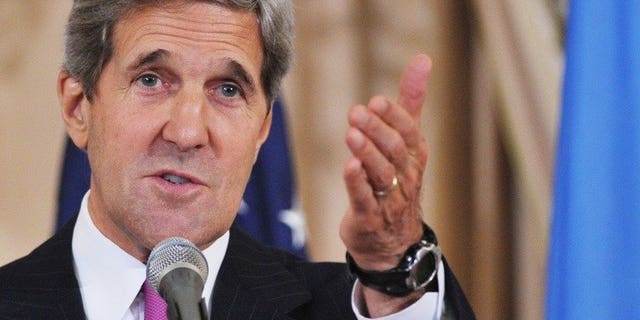 NEWYou can now listen to Fox News articles!
RAMALLAH, Palestinian Territories (AFP) – US Secretary of State John Kerry's return to the Middle East to restart direct talks between Israel and the Palestinians could be postponed because of his wife's illness, a Palestinian official said Tuesday.
Kerry's wife Teresa Heinz Kerry was hospitalised late Sunday with an unknown illness.
The official said on condition of anonymity Kerry had been due to visit, "but because of private family circumstances he could postpone his visit".
Israeli newspapers Yediot Aharonot and the left-leaning Haaretz reported on Sunday that Kerry would return to the region at the end of the week.
Kerry could replace the visit with meetings between his team of advisers who stayed in the region and Palestinian and Israeli negotiators, the official told AFP.
Heinz Kerry's health had improved since she was hospitalised on Sunday, a spokesman for the secretary of state said.
But the Palestinian official said the possibility of direct talks with Israel was further complicated by Israel's refusal to totally freeze settlement construction.
"Kerry's tours and his the meetings of his advisers were met with the refusal of (Israeli Prime Minister Benjamin) Netanyahu to stop the settlement of East Jerusalem and the three blocks of settlements in the West Bank," the official said.
"During the negotiations Netanyahu proposed a temporary halt in settlements in the West Bank, but excluding East Jerusalem and the settlement blocs," which the Palestinians rejected, he added.
Abbas is pushing Israel to freeze all settlement building activities and to publicly agree to make the lines that existed before the 1967 Middle East war the baseline for peace negotiations.
Netanyahu has called for talks without "preconditions", a reference to Palestinian demands, which he rejects, instead considering "good will gestures" such as the release of prisoners or a partial freeze on settlements instead.
Kerry spent four days in June locked in intensive shuttle diplomacy between the Israeli and Palestinian leadership in a high-profile bid to draw the two sides back into direct negotiations after a gap of nearly three years.
Chief Palestinian negotiator Saeb Erakat said there had been "no breakthrough", but Kerry himself insisted he had had "very positive" discussions with both sides during his visit.