Kerry meets Netanyahu in Davos to push framework for Israeli-Palestinian peace deal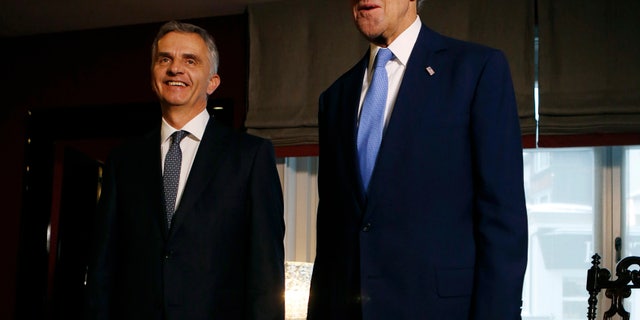 DAVOS, Switzerland – U.S. Secretary of State John Kerry is pushing back on suggestions that the Obama administration's Middle East policy is in disarray.
Kerry met Friday morning with Israeli Prime Minister Benjamin Netanyahu for about 90 minutes on the sidelines of the World Economic Forum in Davos, Switzerland to push a framework for a peace deal with the Palestinians.
Later Friday, he's to deliver a speech in which U.S. officials say he will counter criticism that the United States is pulling back from the Mideast.
Kerry will argue it's a "myth" that Washington has disengaged from the region, pointing out major diplomatic initiatives with the Israelis and Palestinians, Syria and Iran.
Kerry came to Davos after attending a Syria peace conference in Montreux, Switzerland on Wednesday.