Kenya's interior minister dies a month before election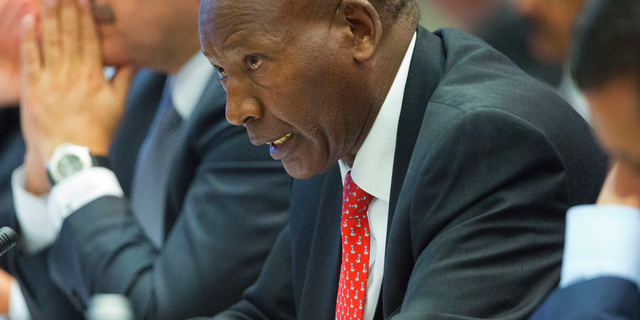 NAIROBI, Kenya – Joseph Nkaissery, Kenya's interior minister and a retired general, died Saturday in a Nairobi hospital a month before the East African country's presidential election. He was 67.
Nkaissery died a few hours after being admitted for a check-up, according to Joseph Kinyua, President Uhuru Kenyatta's chief of staff.
"I call on Kenyans across the political divide to mourn in peace and to uphold his singular mission of a peaceful, united Kenya," Kenyatta said. The president appointed education minister Fred Matiangi as acting interior minister.
Concerns are growing about next month's election. The European Union observer mission has said it's "no secret" that violence is possible, as has occurred in past votes. A decade ago, more than 1,000 people died in post-election violence.
Opposition leader and presidential candidate Raila Odinga eulogized Nkaissery, saying his death was a totally unexpected tragedy.
"Gen. Nkaissery saw the protection of Kenya as his duty in life," he said. "It was the issue of the elimination of small arms that was his foremost priority." Odinga called small arms "the principal source of the violence that has periodically ravaged parts of our nation."