Kenyan police fire tear gas to disperse protesters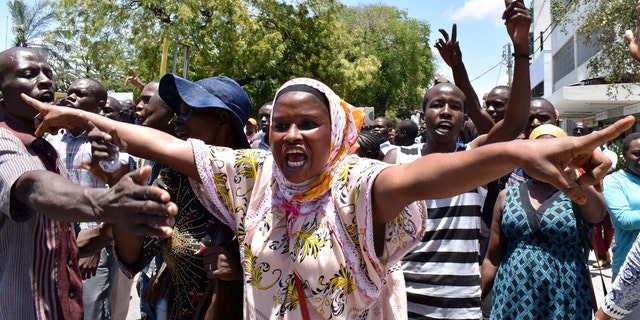 NAIROBI, Kenya – Kenyan police lobbed tear gas and fired shots in the air in Nairobi and Kisumu Monday to disperse protesters who are demanding a change of leadership at the country's election commission.
In addition to the protests in the capital Nairobi and the opposition stronghold of Kisumu, in western Kenya, there was a peaceful protest in the coastal city of Mombasa.
The protests were called by the opposition National Super Alliance, whose leader Raila Odinga faces President Uhuru Kenyatta on Oct. 26 in a rerun of the presidential vote.
Kenya's top court ordered a repeat election after nullifying the re-election in August of Kenyatta, citing irregularities and illegalities in the vote counting. The court said the election commission had failed to verify the results.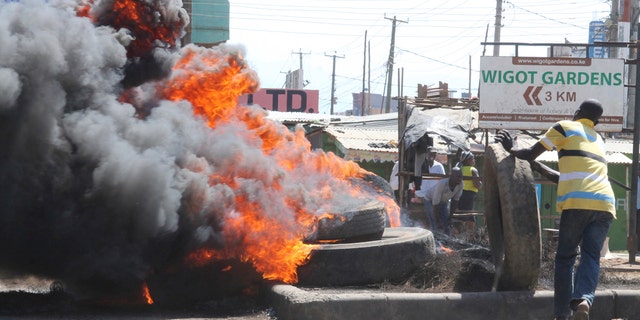 Odinga has said he will not participate in the fresh poll without major reforms to the electoral commission. Kenyatta has said he does not want any changes.
MARSEILLE TERROR ATTACK SUSPECT RELEASED FROM CUSTODY DAY BEFORE ASSAULT
In Kisumu Monday hundreds of protesters chanted "Chiloba must go," referring to the chairman of the election commission. Emerging from Kisumu's Kondele slum, the protesters broke a police barrier and forced their way into the center of the city, waving placards and twigs and chanting slogans against the election commission. Police responded with tear gas and fired shots in the air.
"Chiloba stole the elections. We cannot let him stay in office," said protester Celestine Owuor in Kisumu.
Chiloba, who is supported by the ruling party, is one of the electoral commission officials the opposition party says must go before the re-run vote is held.
No casualties were reported in the protests Monday.
Kenyatta said Monday the protesters' demands are "unrealistic."
Speaking at a forum with women leaders at his official residence, State House, Kenyatta said: "It is very clear they (the opposition) don't want elections. But I want to tell them today that elections will be held as ordered by the Supreme Court, and the date has been set."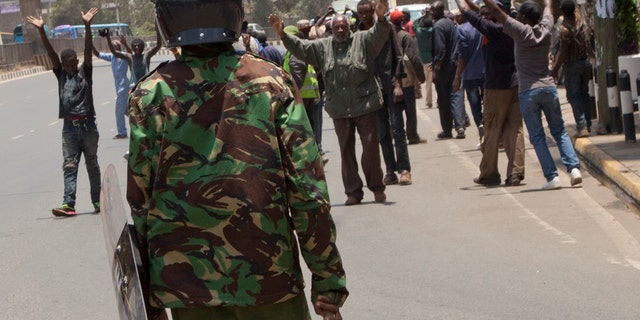 In a statement Monday following a meeting with election commission officials, a group of Western ambassadors including U.S. ambassador Robert F. Godec, urged the ruling party and the opposition to "be reasonable in their demands of" the election commission.
"Do not paralyze the IEBC," the statement said, referring to the election commission.
"Unfortunately, the opposite appears to be happening. The draft Election Laws Amendment Bill, for example, puts at risk the IEBC's ability to conduct a better election within the mandated 60-day timeline, and unnecessarily increases political tensions,"said the statement.
Talks between both sides over the fresh election have collapsed because the opposition objects to the ruling party's alleged plan to use its majority in the national assembly to remove a requirement that results be transmitted electronically.