Kenya woman fears for life after ICC witness 'outing'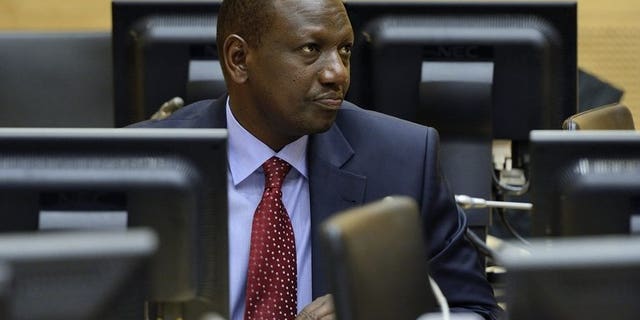 NAKURU, Kenya (AFP) – A Kenyan woman whose photograph was mistakenly exposed on social media as a witness in the International Criminal Court case against Deputy President William Ruto said Friday she feared for her safety.
Police in Kenya's Rift Valley region said they were on standby to place the woman, Rahab Muthoni, under protection after her photograph ended up on blogs and Twitter posts along with the name of another woman thought to be an ICC witness.
The photo was taken by a friend on his mobile telephone, and police said they had taken him in for questioning.
"The police keep reassuring me. They've even given me all their numbers to contact them directly if I feel I'm in imminent danger, but I'm still anxious," Muthoni told AFP by telephone from her home near the city of Eldoret.
Kenya's vice president is on trial at the Hague-based ICC for allegedly orchestrating ethnic violence to "satisfy his thirst for power" after disputed 2007 elections. In all, more than 1,000 people died in the post-poll unrest, the worst since Kenya's independence in 1963.
The prosecution's first witness, a woman referred to only as "Witness P0536" and whose face was pixellated and voice distorted to protect her identity, gave a harrowing testimony on Tuesday in which she recalled how a machete-wielding mob trapped thousands inside a church and set it ablaze.
But within hours of her testimony, which was carried live on several Kenyan television stations, viewers began speculating on her real identity on Twitter and other sites.
Muthoni's photo was then circulated along with the supposed real name of the protected witness, prompting anger among human rights groups and a warning from the ICC that legal action could be taken.
Muthoni said she was affected by the post-election violence, but was not a witness in the case.
Local police chief Ndung'u wa Ikonya said the woman would be protected.
"We have told her we are investigating the case and if she feels insecure at any point she has all our contacts and we can move to safeguard her," he said.
The ICC has also charged Kenyan President Uhuru Kenyatta for allegedly masterminding a campaign of murder, rape, persecution and deportation. His trial is due to start in November, and like Ruto he contests the charges.