Kenya charges three foreign terror suspects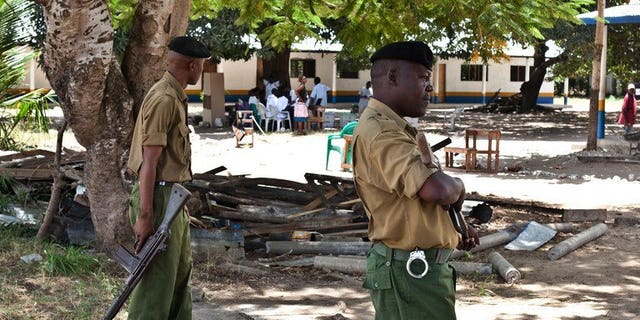 MOMBASA, Kenya (AFP) – Three foreigners facing terrorism charges at home have been charged with illegally entering Kenya and are set to be deported, lawyers and officials said Friday.
Court documents identified two of the men, Ben Abdalla Ismail and Rachid Benimari, as French nationals. A third, Mustapha Bouyabaren, was said to be Belgian.
The men are believed to have arrived in Kenya from Somalia, where a brutal Islamist insurgency is raging.
The suspects pleaded guilty to being in Kenya illegally, while police officials said they were expected to be sent home where they are reported to face charges connected to terrorism.
"The foreigners were arrested following intelligence from our partners," said Njeru Mwaniki, Kenya's anti-terrorism police chief.
"We have information that they are wanted by their countries on terrorism related issues," he said, adding that "the suspects will be deported back to their countries to face charges they are wanted for."
All three, as well as two Kenyans accused of hosting them, Hussein Omar and Ahmed Omar, were arrested Tuesday in the town of Malindi, a popular tourist resort on the Indian Ocean coast.
The Kenyans pleaded not guilty to supporting the foreigners.
A European diplomat said the foreigners were believed to have entered Kenya from Somalia, where Al-Qaeda-linked Shebab insurgents are waging a bitter war against the troops of the internationally-backed government.
Documents shown in the court in Malindi said the trio first arrived by air in Kenya's capital Nairobi in April 2011, where they were given a month-long visa to stay.
The European diplomat told AFP that Belgium has already issued an arrest warrant for one or more of the men.
It is not the first time Belgians have been suspected of fighting alongside Islamist groups in conflict-torn countries in recent years.
For the past several months, Belgian authorities have expressed concern over the departure of several dozen young Muslims to Syria, where they are reported to have joined Islamist militia forces.
In June 2012, six members of a cell specialised in recruiting fighters for Iraq and Afghanistan were jailed for as long as eight years in Brussels.