Kenya: Baby saved from collapsed building after 80 hours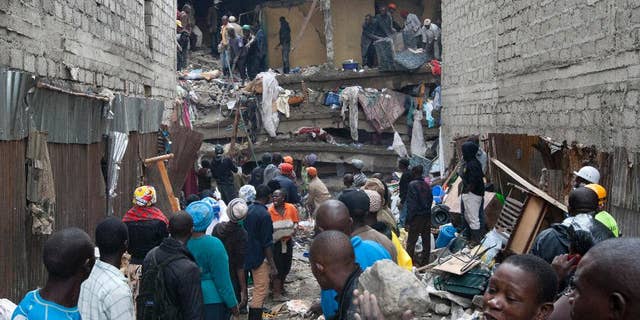 NAIROBI, Kenya – A baby almost six months old was on Tuesday rescued from the rubble of a building that collapsed Friday night, raising hopes that more survivors could still be found even though the death toll rose to 23 and 93 people have been reported missing.
The Kenya Red Cross said the baby was identified as Dealeryn Saisi Wasike. The father Raslon Saisi Wasike was to hold a press conference later to explain what happened to the baby and the mother, the Red Cross said.
The baby girl was brought to the hospital around 6 a.m. local time after being from the rubble of the seven-story building, said Simon Ithai, spokesman of the Kenyatta National hospital. The baby had no physical injuries and is being treated for dehydration, Ithai said.
The death toll from the collapsed building now stands at 23, according to police, and the Kenya Red Cross said that 93 people have been reported missing.
In court, police requested to be able to hold for 21 days the two owners of the collapsed building and 21 officials from the county government as police investigate them. The court will rule Wednesday on whether the suspects will be granted bail.
Taking advantage of a high demand for housing in Nairobi, some property developers bypass building regulations to cut costs and maximize profits.
President Uhuru Kenyatta last year ordered an audit of all the country's buildings to see if they are up to code after eight buildings collapsed, killing at least 15 people. The audit by the National Construction Authority found that 58 percent of buildings in the capital are unfit for habitation. The majority of Nairobi's estimated 4 million people live in low income areas or slums.