Judge in Oscar Pistorius murder trial rules athlete should undergo psychiatric evaluation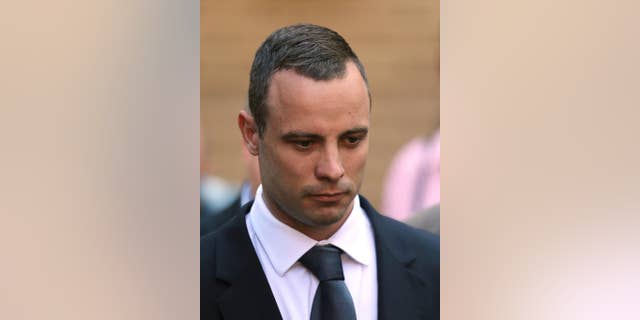 PRETORIA, South Africa – Oscar Pistorius will undergo psychiatric evaluation after the judge ruled at his murder trial Wednesday that his state of mind when he killed his girlfriend should be assessed by experts, possibly delaying court proceedings for two months.
The ruling was prompted by testimony by a psychiatrist on behalf of the defense that the double-amputee Olympic athlete has generalized anxiety disorder and that this may have influenced his judgment when he fatally shot Reeva Steenkamp through a toilet door in his home on Feb. 14, 2013.
The chief prosecutor, Gerrie Nel, then requested psychiatric testing — a move opposed by Pistorius' chief lawyer. Judge Thokozile Masipa agreed with the prosecutor, saying it was important to independently assess Pistorius' state of mind because the defense might now argue that he was not criminally responsible for the shooting because of his anxiety disorder.
"The accused may not have raised the issue that he was not criminally responsible at the time of the incident in so many words, but evidence led on his behalf clearly raised the issue and cannot be ignored," the judge said. Pistorius will likely be evaluated by a panel of psychiatrists at a government facility.
Pistorius says he shot Steenkamp by mistake in the pre-dawn hours, thinking there was an intruder in his home. His lawyers have regularly pointed to his fear of violent crime and vulnerability as an amputee as central to his account of a mistaken killing. After meeting with Pistorius on two occasions at the beginning of this month, Dr. Merryll Vorster testified this week that he was "hyper-vigilant" and constantly feared being attacked.
But legal analysts said the defense team's decision to introduce Vorster's testimony may have backfired. John Welch, former deputy director of South Africa's public prosecuting authority, said Pistorius' lawyers may have called the psychiatrist to the stand at such a late stage in the trial to "remedy" the athlete's own testimony, which has been viewed as unconvincing. But in testifying that Pistorius was anxious, felt vulnerable to crime and may not have intended to kill Steenkamp, Vorster possibly "went too far" in her description of the psychiatric disorder, according to Welch.
Pistorius, 27, stood with his hands clasped in front of him in the courtroom as the judge explained her decision. He could be acquitted if the judge rules he was not criminally responsible for Steenkamp's shooting because of a mental illness. A mental disorder could also be used by his defense for a lighter sentence in the event of a conviction.
The prosecution says Pistorius killed Steenkamp intentionally after an argument. In asking for the psychiatric evaluation, Nel may be trying to remove grounds for appeal by the defense — on the basis of a psychiatric disorder — should he be convicted.
Judge Masipa said the court would reconvene on Tuesday to decide on details regarding Pistorius' period of observation. In South Africa, it is normally for 30 days. Masipa said it would be preferable that Pistorius be evaluated as an outpatient and return home each day after tests. He is free on bail after being charged with premeditated murder.
After his tests, the experts who assess Pistorius would take additional time to compile a report and submit it to the court. That could take another month, raising the possibility of a two-month delay in the trial, which started March 3 and is in its eighth week of proceedings.
The judge acknowledged that there would be a significant delay, but said it was necessary.
"This is not about anyone's convenience, but rather about whether justice has been served," Masipa said.
Marius du Toit, a defense lawyer not involved in the case but following it closely, said a panel of three psychiatrists would provide the court with a report on Pistorius, and it may also deal with the issue of his fitness to stand trial at all.
Despite the defense team's opposition to the psychiatric evaluation, Pistorius' uncle, Arnold Pistorius, said outside the courthouse that the ruling reaffirmed the family's confidence in the justice system.
"As a family, we are comforted by the thoroughness and detail of this judgment and Judge Masipa's commitment, using every avenue, to ensure a fair trial," Arnold Pistorius said in his prepared statement.
___
Imray reported from Stellenbosch, South Africa.