Judge Bars Arizona Sheriff Joe Arpaio From Criminally Charging Immigrants Who Pay Smugglers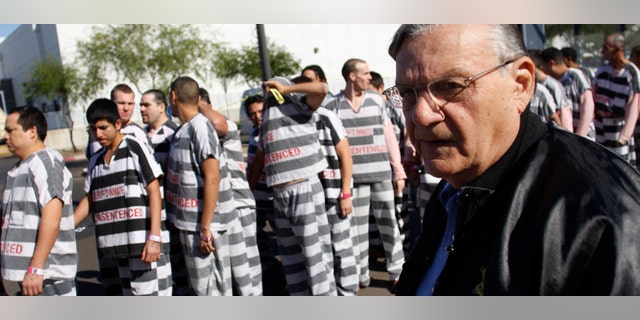 A federal judge has barred Arizona's most populous county from criminally charging people who paid to be smuggled into the U.S. as conspirators in the crime.
U.S. District Judge Robert Broomfield's ruling said Maricopa County's interpretation of the 2005 state law cannot be enforced by Sheriff Joe Arpaio or county prosecutors because it conflicts with — and is trumped by — federal law.
Broomfield said the policy criminalizes actions that federal law treats as a civil matter.
"It is hard to imagine a more blatant conflict than that," he said Friday in his 60-page ruling.
Attorneys for the activists and others who challenged the policy did not immediately respond Monday to requests for comment.
However, Peter Schey, an attorney for the activists, said in a statement that the ruling "will hopefully bring to an end a mean-spirited and short-sighted policy that has severely harmed a large number of immigrants during the past several years in an entirely unconstitutional manner."
The county attorney's office was reviewing the ruling and had no immediately comment, spokesman Jerry Cobb said.
Broomfield's ruling is the latest in a series of restrictions placed by the courts and the federal government on immigration enforcement efforts by Sheriff Joe Arpaio.
Seventy-five percent of the approximately 1,800 people charged under the smuggling law in Maricopa County through June 2011 were facing counts of conspiring to sneak themselves into the country.
That drew complaints from immigrant rights advocates that the statute was intended for often-violent smugglers, not their customers, and that the prosecution policy was pre-empted by federal immigration law.
Attorneys defending Maricopa County prosecutors and Arpaio argued that the interpretation didn't conflict with federal law. They also pointed out that Arizona law allows people to be convicted of conspiracy, even when they can't be convicted of the underlying crime itself.
The state smuggling law was passed in 2005 as lawmakers responded to voter frustration over Arizona's role as the nation's busiest immigrant smuggling hub. It marked the state's second major immigration law and was followed in 2010 with a wide-ranging statute that required police to make immigration checks in certain cases and inspired similar laws in Alabama, Georgia, Indiana, South Carolina and Utah.
Several weeks after the smuggling law took effect in August 2005, Maricopa County's then-top prosecutor issued a legal opinion that said immigrants suspected of using smugglers to enter the country illegally can be charged as conspirators. Maricopa County is the only county in the state to use the conspirator interpretation for the smuggling law.
State courts upheld the legal interpretation of then-Maricopa County Attorney Andrew Thomas, but critics continued their fight in federal court.
The suit challenging the policy was dismissed, but the case was revived in July 2010 when an appeals court ruled that a trial judge erred in dismissing organizations and taxpayers who challenged the prosecution tactic.
Those pushing the lawsuit — the Arizona Hispanic Community Forum, the Hispanic civil rights group Somos America, former Democratic state Sen. David Lujan of Phoenix and Arizona State University professor LaDawn Haglund — weren't seeking monetary damages and instead asked Broomfield to declare the policy unconstitutional and to bar county prosecutors and Arpaio's agency from bringing conspiracy cases under the law.
Fighting illegal immigration became a central part of Arpaio's political identity over the past seven years, bucking the long-held tradition in American law enforcement for local police to stay out of immigration enforcement and leave those duties to the federal government.
But Arpaio's immigration enforcement powers have been sapped since October 2009, when Washington stripped some of his officers of their power to make federal immigration arrests. Arpaio continued by enforcing Arizona's smuggling law and another state immigration law.
In a separate racial-profiling case in federal court, a judge in May ruled that Arpaio's department had systematically singled out Latinos in its immigration patrols.
Based on reporting by The Associated Press.
Follow us on twitter.com/foxnewslatino
Like us at facebook.com/foxnewslatino