Jordanians 'suspicious' about US military deployment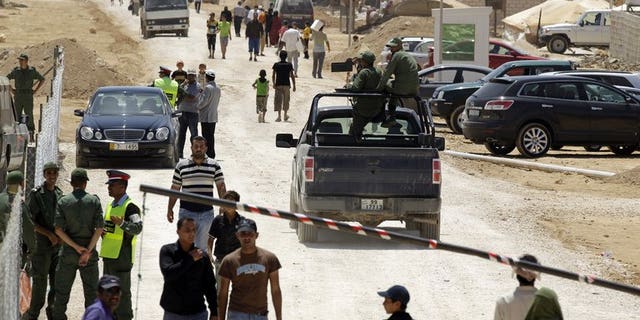 AMMAN (AFP) – Jordanians are suspicious about US weapons and troops being deployed to the kingdom, even if Washington seeks to help its ally protect itself from a possible spillover of Syrian violence, experts say.
Worried about the security of Jordan, which is already struggling to cope with around 550,000 refugees from its war-torn northern neighbour, the United States has kept F-16 warplanes and Patriot missiles in the country since a joint military exercise ended on June 20.
A US defence official has told AFP that Washington has expanded its military presence in the country to 1,000 troops.
"Jordanians do not feel comfortable about the presence of US troops, weapons and equipment in the kingdom," analyst Oraib Rintawi, who runs the Al-Quds Centre for Political Studies, told AFP.
"For Jordanians, the US military presence is linked to plots and conspiracies against their neighbours, which would impact the country itself."
Rintawi said Jordan is a key US regional ally that is still stable and secure.
"For the Americans, protecting that stability is key and at the core of their strategy in the Middle East.
"But public opinion here does not welcome the Americans, even if they say they want to protect the country."
US Secretary of State John Kerry was in Amman on Friday on another errand -- to meet Palestinian president Mahmud Abbas, as he sought to revive stalled Middle East peace talks.
Jordan has repeatedly said it does not seek to interfere in Syria's affairs.
Last week, Prime Minister Abdullah Nsur denied a Los Angeles Times report that the Central Intelligence Agency and US special forces have been training Syrian rebels at a new American desert base in southwest Jordan.
"There is no training in our country whatsoever of Syrian opposition forces... the only Syrians we are dealing with in our country are refugees," he told journalists.
MP Khalil Atiyeh, deputy house speaker, says lawmakers reject the presence of foreign forces.
"As deputies representing Jordanian people, we do not accept US or any other foreign troops in Jordan. Jordanians do not think there are threats from Syria."
"But we understand the nature and requirements of US-Jordanian relations and that Washington wants to protect its interests in the region as well as its allies."
Jordan, a major beneficiary of US military and economic aid, could act as a conduit for military support Washington has said it will give rebels battling Syrian President Bashar al-Assad's forces.
Amman also shares Western concerns that Muslim extremists could establish a foothold in Syria.
"Jordanian people do not want to see American troops here because they fear the Syrian regime could retaliate," political writer and columnist Labib Kamhawi told AFP.
"The US weapons and troops have been deployed to Jordan as a precautionary measure, but this could be seen by Syria as an act of aggression, which makes people here worried."
King Abdullah II vowed this month to defend Jordan from the war in Syria, saying "we are capable at any time to take the necessary measures to protect our country and people's interests".
The opposition Islamists said the US military deployment "is not in Jordan's interest".
"We reject the presence of US invaders and I think other Jordanians are worried and agree with us," said Zaki Bani Rsheid, deputy leader of Jordan's Muslim Brotherhood, the main political party.
US media reports have said Washington was preparing to use the weapons to enforce a no-fly zone over Syria from Jordan, but the White House has ruled out the idea, billing it as difficult, dangerous, costly and unsuitable.
"Jordan's situation is complex. Even if Amman does not agree with its allies on certain things in the Syria file, the country has to compromise," Mohammad Abu Rumman, a researcher at the University of Jordan's Centre for Strategic Studies, told AFP.
"I think Jordan seized the opportunity of the current US movements concerning Syria to have the Patriots and improve the kingdom's defence systems."
Jordan Perry, a senior analyst at Maplecroft risk group, said Washington wanted to assure Amman that it "remains committed to upholding the country's border security as the conflict in Syria continues and threatens to spread even more outside its borders."
"Jordan's bid to obtain Patriot missiles reflects the kingdom's growing concern over the recent rise in violence between the Syrian military and rebel forces in the border areas, and the propensity for the violence to spill over into Jordanian territory."