Jordan calling for Jerusalem site surveillance footage to be streamed online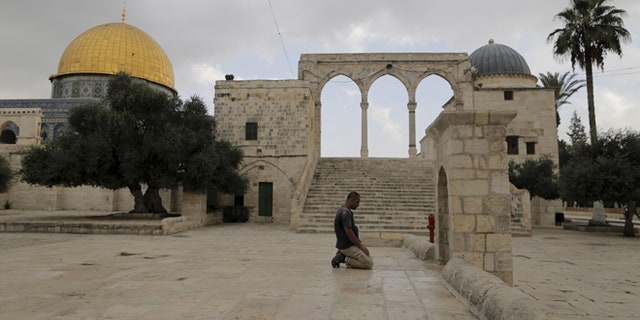 Jordan is calling for security camera footage from a Jerusalem shrine at the center of Israeli-Palestinian violence to be live streamed on the Internet.
Muslim clerics and Israeli police are currently monitoring the images, but "the ultimate goal is for the footage to be seen on the Internet, by everyone," A Jordanian official told the Associated Press.
Secretary of State John Kerry announced over the weekend the agreement between Israel and Jordan to install security cameras at the hilltop compound.
Israeli Prime Minister Benjamin Netanyahu has welcomed the plan, saying the cameras will prove that Israel is not doing anything wrong at the site.
But Muslim religious officials said Monday Israeli police were blocking them from installing them. Israeli police had no immediate comment.
The violence has been fueled by Palestinian allegations that Israel is trying to alter a delicate arrangement at the holy site, a charge Israel denies. The site is revered by Jews as the Temple Mount, the holiest site in Judaism and home to the biblical Jewish Temples. Today, it is home to the Al-Aqsa Mosque compound, the third-holiest site in Islam.
Also Monday, the Israeli army said its forces shot a Palestinian who tried to stab an Israeli soldier in the West Bank city of Hebron, near that holy site.
The army would not elaborate on the condition of the Palestinian. The soldier was unharmed.
Military officials also said a Palestinian stabbed and severely wounded an Israeli soldier near Hebron before being shot and killed.
There have been almost daily Palestinian attacks, mostly stabbings, against Israeli civilians and security forces in recent weeks. Ten Israelis have been killed in Palestinian attacks, while 51 Palestinians have been killed by Israeli fire, including 30 said by Israel to be attackers and the rest in clashes.
Earlier Monday, an Israeli official said Netanyahu ordered a "review" of the status of certain Palestinian neighborhoods of east Jerusalem, an effort that could affect the residency rights of tens of thousands of Palestinians.
The official said Netanyahu recently called for the review of Jerusalem neighborhoods that lie outside of Israel's West Bank separation barrier. One-third of the city's Palestinians, up to 100,000 people, live outside the barrier.
The vast majority of the city's Palestinians hold residency rights, but not citizenship. Stripping them of residency would affect their ability to work and travel inside Israel, and prevent them from access to health care and social services.
Any Israeli attempt to remove residency rights would likely generate an international uproar.
The Associated Press contributed to this report.