Jodi Arias Fades From View As Case Unfolds In Shroud Of Secrecy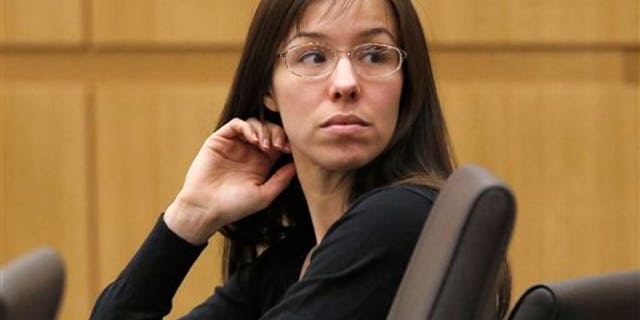 PHOENIX (AP) – For months, Jodi Arias was a television staple, every minute of her murder trial broadcast live while cable network commentators railed nightly about the case. The now-convicted murderer took to the spotlight in celebrity style and embraced the attention at every turn as she spent weeks on the witness stand and did a series of media interviews.
But Arias has vanished from view since her trial ended in May, and the judge has done a complete about-face. She has shut the media and public out of nearly every hearing in the case and drawn complaints from First Amendment lawyers that she has gone too far.
"The trial court has gone from transparency to blackout and bewilderment," said attorney David Bodney, who represents several media outlet, including the Arizona Republic, fighting for transparency. "There have been repeated flagrant violations of the public's constitutional right to attend proceedings."
Arias was convicted of murder in May, but the jury couldn't reach a verdict on her sentence. Prosecutors are now pursuing a second penalty phase with a new jury in an effort to get the death penalty. No date for a new trial has been set.
Arias, 33, admitted she killed her boyfriend in 2008 at his suburban Phoenix home but claimed it was self-defense. Travis Alexander suffered nearly 30 knife wounds, had his throat slit and was shot in the forehead in what prosecutors argued was a jealous rage.
Judge Sherry Stephens has held hearing after hearing behind closed doors as the next steps of the case unfold almost entirely under a shroud of secrecy. Over the last several months, she has heard arguments over sequestering the new jury, moving the case out of Phoenix, Arias' desire to fire her lead attorney and allowing live television coverage of the retrial, among other issues.
She has denied each request, but quietly with orders released days after the secret hearings as the case languishes without public scrutiny even as Arias' legal tab is being picked up by taxpayers at a cost exceeding $1.7 million. Meanwhile, in yet another element of secrecy, Maricopa County Attorney Bill Montgomery has refused to provide a tally of how much it has cost to prosecute the case, including paying for expert witnesses throughout the five-month trial.
Stephens allowed virtually unfettered access to the first trial, which was broadcast live and became to fans like a real-life soap opera as they traveled from around the country to get in the courtroom.
She now says the hearing closures are intended to protect Arias' right to an impartial jury, but Bondey says the judge has gone to the extreme, often simply locking the courtroom doors without issuing an order as to why, in violation of the Constitution.
"The public is deprived of its First Amendment right to attend criminal proceedings," Bodney said. "The public has a right to be heard before they're just locked out."
Even arguments by attorneys over media access to proceedings in the case have been closed to the media.
An irony not lost on Bodney is that the intense media interest in the case has largely evolved from Arias' own actions by courting interviews and operating a Twitter account and selling her artwork from behind bars through a third party. She regularly posts inspirational quotes, links to purchase her drawings and solicitations for donations for her appeals.
A clerk for Stephens said the judge could not comment on an ongoing case. Defense lawyer Kirk Nurmi has not returned telephone messages.
While all the requests to close hearings have come from defense attorneys, prosecutors haven't objected.
"It's a balance, but I believe when push comes to shove, a defendant's right to a fair trial is probably going to trump what otherwise is considered the public's right to attend trial," Montgomery said.
Phoenix defense lawyer Mel McDonald, a former Maricopa County judge and federal prosecutor, said the judge likely never expected the Arias case would attract such publicity and is now trying to dial back access to protect the record for inevitable appeals.
"The more that comes out, the harder it's going to be to find an impartial jury and the greater the risk of prejudice and error," McDonald said.
Bodney doesn't buy it.
He said the judge's decision to ban live television coverage and the use of all electronic devices, meaning reporters won't be able to provide real-time updates via Twitter as occurred during the first trial, is a "severe overcorrection" that will "deprive the public a lens into the concluding chapter of this trial."
Follow us on twitter.com/foxnewslatino
Like us at facebook.com/foxnewslatino