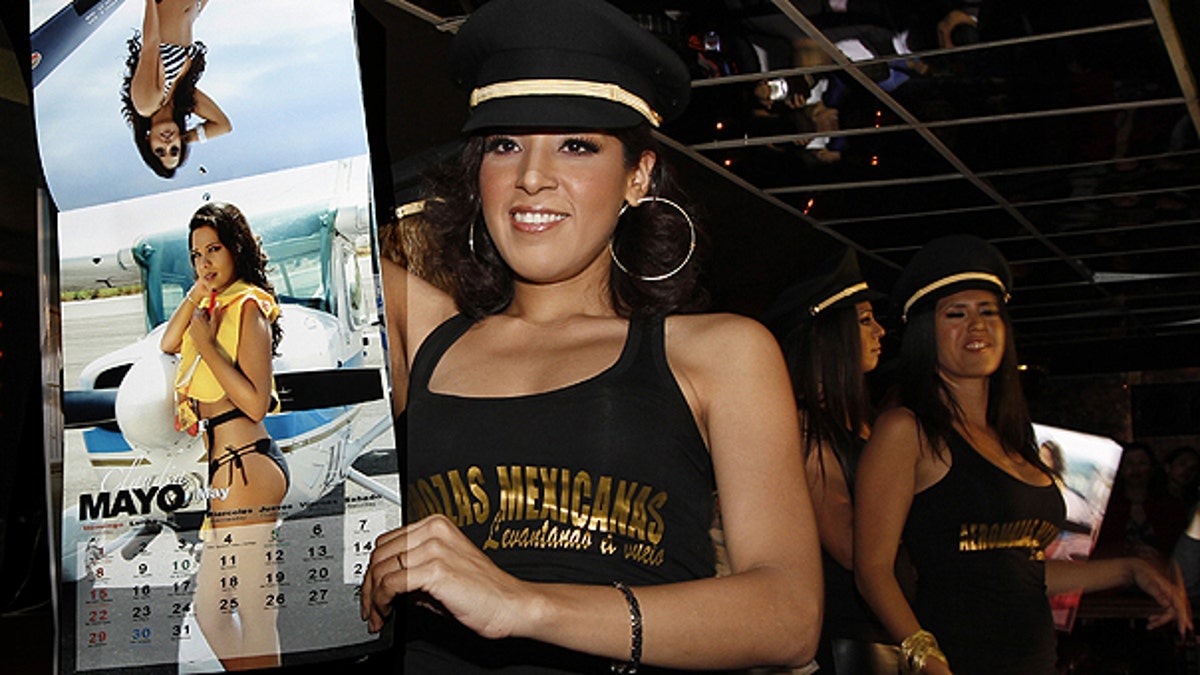 MEXICO CITY -- It could be the Mexican remake of the "The Full Monty" -- just swap the out-of-work British steel workers from the 1997 hit movie for curvy Latina flight attendants.
Ten stewardesses with troubled Mexicana airlines, which filed for bankruptcy in August and suspended operations, launched a sultry aviation-themed calendar Thursday in a bid to call attention to their own plight and that of their airline -- one of the world's oldest.
The 2011 calendar features glossy shots of the flight attendants, clad only in bikinis and aviation shades or abbreviated uniforms, draped over propellers and striking racy poses in the cockpit.
It was the brainchild of 10-year Mexicana veteran Coral Perez.
"It occurred to me because we all needed money, and I thought that with so many pretty girls (among Mexicana's staff) there were bound to be some who'd be interested," she said.
Each of the 10 "aeromozas" -- or flight attendants in Spanish -- who ended up posing forked out money from her own pockets to help cover the production costs of 100,000 pesos (about $8,000).
"The goal was to try to help ourselves because we lost everything overnight," said one of the women, 26-year-old Maribel Zavala.
Mission accomplished.
The calendar has sparked a media frenzy in Mexico, and the first run of 1,000 was sold out even before Thursday's launch. A second edition of 3,000 calendars -- which retail for 149 pesos, or about $12, apiece -- is in the works.
The calendar's release came on the heels of Mexicana's announcement that a restructuring proposal might allow it to resume some flights by mid-December. Under the plan, just 30 percent of the company's personnel would be rehired.
Founded in 1921, shortly after Dutch carrier KLM and Australia's Qantas airline, Mexicana used to serve 65 destinations in Mexico, the United States, other parts of the Americas and Europe.