Jihadi terrorists threaten Spain's king, two daughters: 'They will know what suffering is'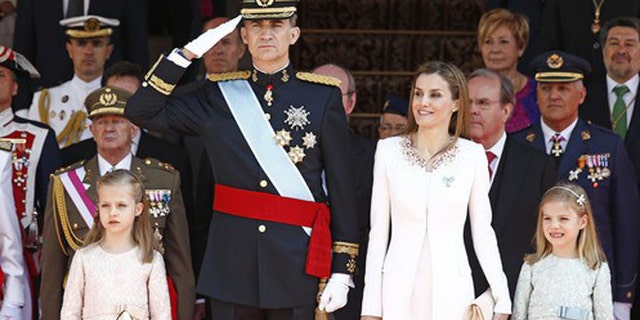 Security forces in Spain "have taken measures" to protect Spain's king and royal family days after authorities arrested eight Jihadist terrorists and discovered a handwritten note threatening the king's two young daughters.
Jihadists in Spain
More than 20 suspected Islamic militants have been detained in the country so far this year.
Spanish authorities believe about 100 people have traveled from Spain to Iraq and Syria to fight with ISIS.
Concerns some may return to Spain to launch attacks.
Morocco has warned Spain that many of the 3,000 Moroccan jihadists fighting for ISIS are returning home and could attempt to attack Spain.
The note was discovered on Friday night when Spanish authorities moved in and busted eight members of the jihadist terrorist cell in raids throughout Spain. According to judicial sources who spoke to La Razon newspaper on Monday, the threat was written by the cell's ringleader and read in part: "Felipe of Spain you will know what suffering is when your daughters are under the rubble."
King Felipe VI recently succeeded his father, King Juan Carlos I, in June. He is married to Letizia Ortiz Rocasolano, a former award-winning TV journalist and together they have two daughters: 9-year old Leonor, the heir apparent, and 7-year-old Sofía.
The written threat was found during raids conducted across Spain in Ciudad Real, Avila, Girona and in Barcelona. The cell, which is accused of encouraging jihadists to launch terrorist attacks in Spain, had been tracked since June. All eight are Spanish nationals, but five are of Moroccan backgrounds. As a result, the Interior Minister Jorge Fernandez Diaz said Monday that security forces "have taken measures" to ensure the security of the royal family but he would not get into details as to how.
"For prudence, I'd rather not talk about that subject," Fernandez Diaz said to a group of journalists. He went on to thank the nation's intelligence services for fighting against the Islamic State in Iraq and Syria (ISIS), and Al Qaeda affiliates particularly in Madrid, Catalonia, and other parts of Levante which appear to be particularly threatened, he said.
The terrorist cell leader reportedly told authorities the note was his but that it was a translation of something he had found on Google, according to La Razon. The self-proclaimed ringleader created and edited recruiting and propaganda videos inciting jihadist terrorism. At the time of his arrest, he had been in possession of a video entitled "Islamic State Training in Spain."
In one particular video, La Razon detailed how he used his own 2-year-old son. In the video, the little boy says he wants to be a jihadist when he grows up and is shown blowing kisses to a photo of Abu Bakr al-Baghdadi, the leader of the Islamic State (ISIS).
According to an arrest warrant obtained by El Pais, the investigation into the terrorist cell involved of at least 10 individuals who used at least 52 profiles on social media networks like Twitter, Facebook, Myspace and Google + that routinely sent out ISIS images, news, and propaganda.
On Sunday, the presiding Judge Javier Gomez Bermudez, denied seven of the eight suspect members bail for allegedly urging attacks to be carried out in the country on behalf of ISIS. One was released, and now the judge must decide whether to continue the investigation or set a trial date.
Like us on Facebook